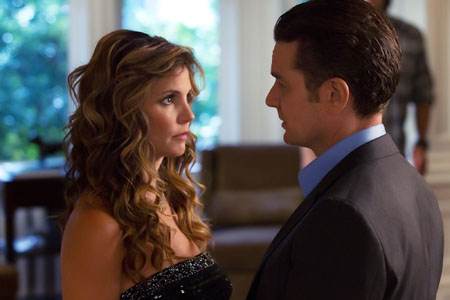 Buffy alum (and recent Supernatural guest star) Charisma Carpenter has signed on to play a pivotal part in ABC Family's The Lying Game, according to TV Guide. Carpenter is set to play Annie Sewell, the oft-mentioned estranged aunt of Sutton's friend Char. Annie's presence in town will turn the pressure up on Alec and Ted that much more, as there's a reason she's been gone for so long and it may have something to do with how much she knows about what happened with Annie Hobbes.
Set to return this January, The Lying Game follows twins Sutton and Emma as they reunite and try to find their birth mother. As they dig into the past of Sutton's adopted family, they learn that their early life was much more complicated (and possibly sinister) than they had anticipated. The Lying Game stars Alexandra Chando (As the World Turns), Allie Gonino (10 Things I Hate About You), Blair Redford (Passions), Andy Buckley (Bridesmaids), and Helen Slater (The Secret of My Succe$s).
Charisma Carpenter got her big break in 1997 playing shallow popular girl Cordelia Chase on The WB's Buffy the Vampire Slayer, and later on its spin-off Angel. Since that time, she's appeared on the likes of Veronica Mars, Greek, and Burn Notice.
Will you be watching The Lying Game when it returns in a couple of months? Which ABC Family show should it be paired with? Do you think we'll find out many answers now that Annie's been cast?