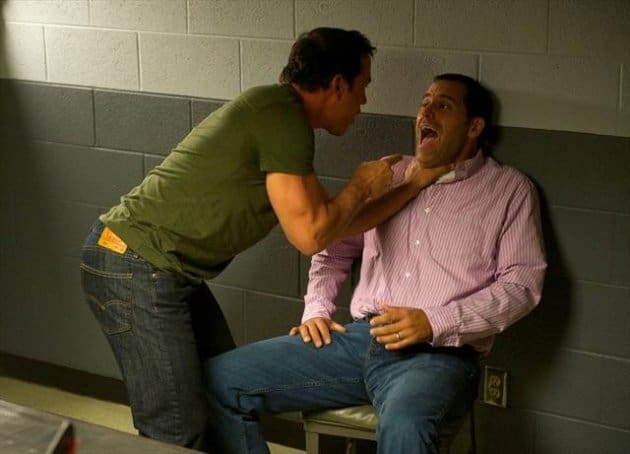 The secret of the twins has been the one thing that has united Emma and Sutton on The Lying Game. Though it's been quite a while since they were on good terms, neither one of them wants the dangerous secret of their existence to spread any farther than it has to. Anyone who has been unfortunate enough to find out about the twins has either met an untimely end or seen their quality of life instantly diminish, so to keep their small (but decidedly different) alliances in tact and innocents spared, Emma and Sutton have continued to duck into the shadows. But what happens when that isn't good enough anymore?
On the next episode of The Lying Game, another person in the Mercer-Becker orbit of lies and deception finds out about the existence of the twins. The preview for the episode, airing March 5th, finds Emma standing in front of Ted (!) and telling him that she's, well, not Sutton. It's a curious strategy, revealing something like that to someone who might have killed two people, but one that could potentially work out in Emma's favor. If Ted didn't do it and he finds out about the twins, he could become an ally, both in terms of taking down Alec and Rebecca and finding out information about the girls' birth/early life. However, Emma's risking a lot by exposing herself like this and it could all blow up in her face accordingly. Either she truly doesn't think that Ted could have killed Derek and Theresa…or she wants to believe so badly that she's willing to risk her life.
Elsewhere on The Lying Game, Ethan makes a potentially damaging confession to Dan, while Sutton receives a phone call that provides valuable information and Emma's feelings for Thayer are tested.
The Lying Game airs Tuesdays at 9:00 on ABC Family.
Do you believe that Ted took Theresa? If he didn't, who did? How will he react to finding out about the existence of Emma?
http://www.youtube.com/watch?v=zsgoUEEMNBQ