[FLOWPLAYER=http://www.tvovermind.com/wp-content/uploads/2013/02/lg-209.jpg|http://www.tvovermind.com/wp-content/uploads/2013/02/LG-209.flv,440,280]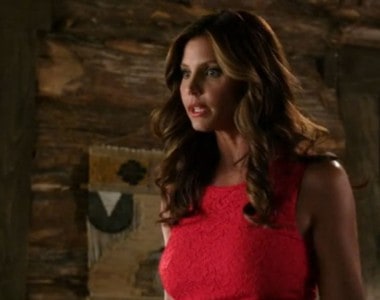 The second season of The Lying Game has found Rebecca dropping all pretense of kindness and civility toward Kristin Mercer. When she arrived in town, Rebecca held her cards tight to her chest and played the part of the sweet former friend coming back to relive the good ol' days and start anew. However, once her plan to win Ted back got into gear and the possibility of being with him became more real, Rebecca dropped the act and poured on the contempt for Kristin. You could argue that it'd be wiser for her to hold out on going after Mama Mercer until she and Ted were definitely together, lest everything blow up in her face and she ends up alone, but for now, Rebecca's going full steam ahead on her scorched Earth tour of Scottsdale.
On the next episode of The Lying Game, Rebecca confronts Kristin at the country club about the kiss she saw between her and Alec, a kiss that got her that much closer to her goal of the perfect family with Ted. Kristin's shocked that she would A) do this in public around their friends and B) have the nerve to do this after having an affair with Ted years ago, but Rebecca's arrogance wins out over logic this time and she even mentions the kiss to Alec. That sense of pride, of needing to come out on top and defeat Alec in their battle of wills might be her undoing. In continuing to rile him up, she's not doing herself any favors; an angry/irritated Alec is the most dangerous Alec and with Sutton and Jordan waffling on their allegiance, Rebecca might not have the forces to keep ahead of him anymore.
Elsewhere on The Lying Game, Laurel tries to get Emma and Sutton to work together, Mads (again) tells Alec more than she should, and Ethan and Dan's relationship might never be the same after an explosive confession.
The Lying Game airs Tuesdays at 9:00 on ABC Family. You can check out photos and a preview of the next episode here.
Will Rebecca confronting Kristin only make Alec more determined to take her down? Can Emma and Sutton find any type of common ground and work together peacefully? Is Mads putting too much trust in Alec and Jordan?