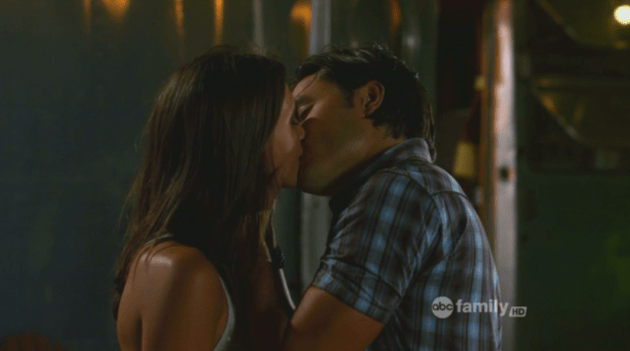 When The Lying Game premieres its second season early next month, it will have been nearly 10 full months since we were last in Phoenix with Emma, Sutton, and the increasingly complicated mystery regarding their birth mother. As a result of the hiatus, ABC Family has released a series of recap videos…with a twist.
Rather than provide a straightforward condensation of 20 episodes of twists and turns, we get three separate videos told from three different character perspectives. The catch up videos are narrated by Emma, Ethan, and Sutton, with each telling their side of the story while going over the events of the first season. There's Sutton's jealousy over Emma taking over her life and becoming a more well-liked Sutton than she ever was; there's Emma's wonderment over finally being able to stop running and getting to experience a healthy, happy family life; there's Ethan's pain over hurting Emma by kissing Sutton at the reservation and messing up the one positive relationship in his life.
It's a creative approach to win back interest in the show and sets up the second season nicely, both in terms of providing a comprehensive look at what's happened and hinting at the carnage yet to come. Sutton and Rebecca need Emma to work with them to take down the Mercer family, but due to what happened with Ethan, I don't think Emma will be wanting to break up the only solid home she's ever been a part of.
The second season of The Lying Game premieres Tuesday, January 8th at 9:00 on ABC Family. You can check out sneak peeks from the season premiere here, as well as information about the New Year's Eve catch up marathon here and new cast portraits here.
Whose side are you on in the battle for Ethan: Emma or Sutton? Do you think that Emma "stole" Ethan from Sutton or does the fact their relationship was never public negate that idea? What will Emma's reaction be upon finding out that Rebecca is her birth mother, that Sutton already knew that, and that the two are planning to take down the Mercer family?
http://www.youtube.com/watch?v=XEkcznceptY
http://www.youtube.com/watch?v=GE7QUjzKFAk
http://www.youtube.com/watch?v=L5Xb4JhSLPQ