[FLOWPLAYER=http://www.tvovermind.com/wp-content/uploads/2013/01/lg-203-1.jpg|http://www.tvovermind.com/wp-content/uploads/2013/01/LYG203_fv1.h264HD-Clip1.flv,440,280,true]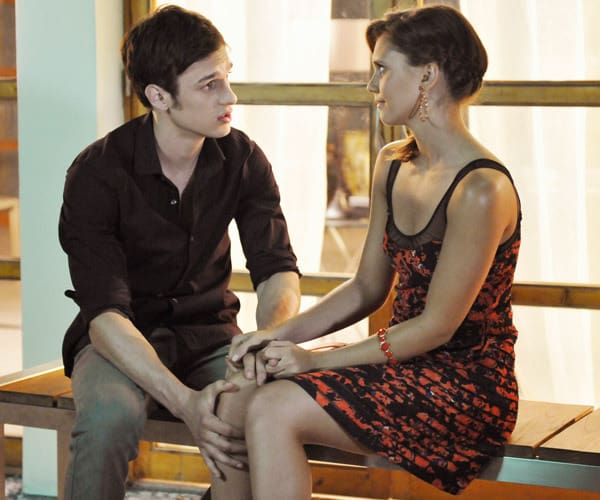 Emma is cursed by how nice and non-confrontational she is. If she had an ounce of Sutton's venom, she could put Ethan behind her once and for all while embracing her new relationship with Thayer and standing up to her sister. However, thus far on The Lying Game, she's stuck to being the non-abrasive twin and coming up, it looks like that could get her in trouble.
On the next episode of The Lying Game, Emma offers to tutor Ethan after he gets caught plagiarizing a paper – the same paper that Sutton "wrote" for him in a bid to butter him up and get him back in her life. However, while Emma's kindness to the guy that still has negative feelings toward her can be looked at as admirable, she might be doing a little too much, as she breaks plans with Thayer to help Ethan. Any new relationship needs nurturing and time invested to survive, so maybe blowing your new partner off to hang out with your ex, no matter how altruistic the intentions, might not be the wisest move if you're serious about making things work.
Thayer will have to decide how much he can take Emma being around Ethan, if any at all. While Emma has made it clear that she wants to be with Thayer, she wasn't the one to end things with Ethan and if the two work closely together for a long period of time, old feelings could come back.
Elsewhere on The Lying Game, Laurel asks out Jordan and brings Mads along on their date, while Sutton challenges Emma to a tennis match where the winner gets to be Sutton Mercer and new evidence is brought forth in Alec's case. But will it exonerate him or further prove his guilt?
The Lying Game airs Tuesdays at 9:00 on ABC Family.
Who do you think will win the tennis match: Emma or Sutton? Will Thayer be understanding of Emma tutoring Ethan? How will Laurel's date with Jordan (and Mads) go?
[FLOWPLAYER=http://www.tvovermind.com/wp-content/uploads/2013/01/lg-203-2.jpg|http://www.tvovermind.com/wp-content/uploads/2013/01/LYG203_fv2.h264HD-Clip2.flv,440,280]
[FLOWPLAYER=http://www.tvovermind.com/wp-content/uploads/2013/01/lg-203-3.jpg|http://www.tvovermind.com/wp-content/uploads/2013/01/LYG203_fv3.h264HD-Clip3.flv,440,280]