[FLOWPLAYER=http://www.tvovermind.com/wp-content/uploads/2013/02/lg-206.jpg|http://www.tvovermind.com/wp-content/uploads/2013/02/LG-206-Clip1.flv,440,280]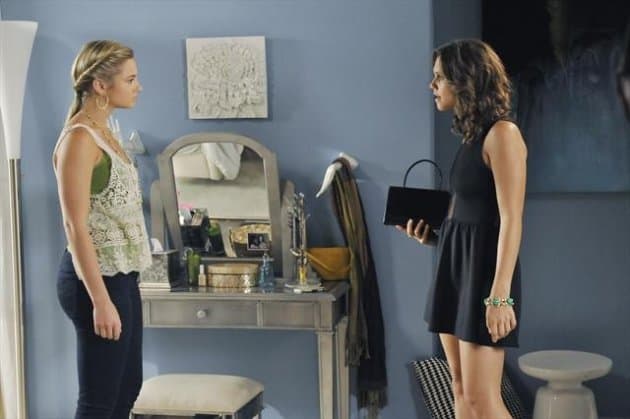 Laurel seemed like the last person on The Lying Game who would figure something major like the existence of Emma Becker out on her own. It's not that the sensitive musician is stupid or unobservant – it's that she tends to see the good in everyone and that lack of doubt in her loved ones' motives doesn't exactly spell out keen sleuth. Not on a show like The Lying Game, at least, where the secrets and deception are becoming increasingly thick and entangled with each passing week. However, Laurel became the only person aside from Alec to figure out on their own that there are twins. How is she handling the shocking discovery?
On the next episode of The Lying Game, Laurel might be the key to bringing down Rebecca and Sutton. It's time for the Flipside Formal and, along with Ethan, Emma has decided to catch her birth mother and twin sister in the ultimate lie. However, she needs help – from Laurel. But where do Laurel's loyalties lie? While Emma has been nothing but nice to her since she arrived in town, she's also basically a stranger who had been living in the Mercer house undetected; as much as Sutton can be (and often is) a cold, manipulative shrew who constantly lashes out, she's a known quantity. Laurel grew up with her and they went through the pains of childhood together, which might be too much for Emma to overcome, plan or no plan.
Elsewhere on The Lying Game, Kristin makes a troubling discovery that could have major impact down the line, while Jordan can't fully commit to either Mads or Laurel, Dan and Theresa are driven apart by Alec, and Rebecca and Ted, and Alec and Kristin, each reminisce about old times.
The Lying Game airs Tuesdays at 9:00 on ABC Family.
Will Laurel continue her silence about the twins and help Emma? What will Kristin discover and how will that impact her relationship with Ted? Should Rebecca be losing faith in Sutton?