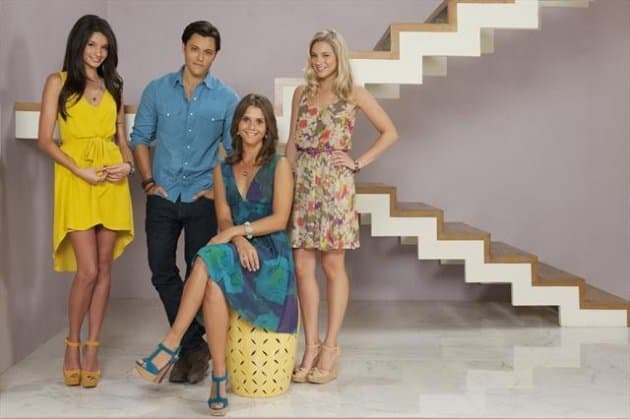 ABC Family has announced that there will be an all-day marathon of The Lying Game on Monday, December 31st. Beginning at 11:30 a.m. and extending through 5:30 the same evening, viewers will be thrust back into the world of Emma Becker and Sutton Mercer, twin sisters that switch lives in an attempt to locate their birth mother and piece together their mysterious past. However, the deeper they get into the murky waters of their childhood, the more they come to understand that what went on after their birth may be bigger than simply an absentee mother.
Listed below are the times, episode titles, and episode descriptions for each installment of the New Years Eve marathon of The Lying Game.
11:30 a.m. – "Black and White and Green All Over"
A youth-oriented ball is held at the country club, where Emma feels like an outsider and Ethan does his best to safeguard her. Elsewhere, Laurel and Ted uncover Justin's true motives; and Rebecca and Mads give each other advice.
12:30 p.m. – "Dead Man Talking"
A tattoo ignites a memory about Sutton for Emma, so Ethan investigates things and lands in trouble. Elsewhere, Mads sneaks away to see Ryan; and Laurel refuses to cut off contact with Justin.
1:30 – "Reservation for Two"
Ethan returns to the reservation where he grew up in order to hide from the law, and tension mounts when he reunites with his dad. Meanwhile, Emma pretends she witnessed something she didn't really see.
2:30 – "No Country for Young Love"
Emma recruits Mads and Thayer to help her vindicate Ethan. Meanwhile, Sutton pushes Ethan to reconcile with his dad; and Alec is displeased with Rebecca's interest in Laurel's musical talents.
3:30  – "Weekend of Living Dangerously"
Ethan's evasive with Emma about his stay at the reservation, and Sutton pressures her to leave town. Elsewhere, a suspicious Thayer begins researching Rebecca; and Kristin has doubts about how honest Ted is being regarding Justin's mother.
4:30 – "Not as Guilty as Charged"
Ethan is arrested for Derek's murder, and Emma's steadfast support of him doesn't sit well with Ted and Kristin. Meanwhile, Alec assigns a top prosecutor to the case, leading Dan to contact an old girlfriend who's become a prominent defense attorney.
5:30 – "Unholy Matrimony"
In the first-season finale, a rushed wedding is planned, arousing suspicion. Meanwhile, Sutton pressures Emma to make Kristin aware of what they uncovered at Rebecca's; and Ethan stumbles onto something big.
The second season of The Lying Game premieres Tuesday, January 8th at 9:00 on ABC Family. You can check out brand new cast portraits (and a first look at new bad boy Jordan, played by 90210's Ryan Rottman) here, as well as the first six episode titles here.
Will you be tuning into any of the Lying Game marathon in order to refresh yourself on what happened last? What do you think will happen during the second season? When will Emma catch on to the fact that Sutton and Rebecca are working together?