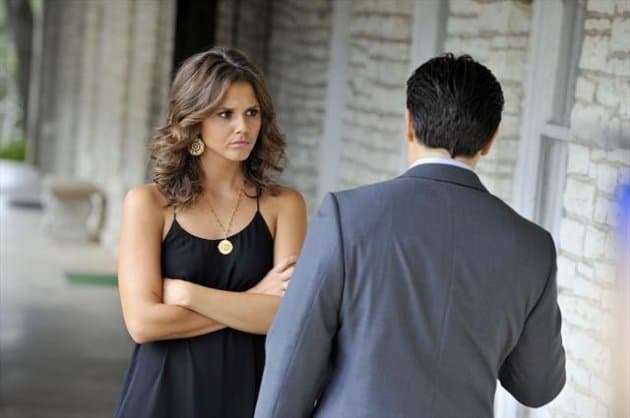 After overhearing Emma talking to Laurel about her suspicions of Rebecca, Sutton began to question her birth mother's role in the death of Derek. All along, Rebecca had been pinning the blame on Alec and how he was the one with the most to gain from keeping the secret of the twins quiet, but once he got out of jail, her case against him had more holes in it. Right now, Sutton is still aligned with her mother, but coming up on The Lying Game, that all might change and the balance of power could completely shift from where its been all season.
On the next episode of The Lying Game, Sutton's change of heart has put Emma in a difficult position. For much of the show, Emma has yearned to be close with her sister and to experience the type of familial closeness that she didn't get to while in the foster care system. All she wanted was for the two of them to be on the same side, but Sutton showed no interest in any of that and seemed more interested in booting Emma out of her life than getting to know her at all. Which makes Sutton's 180 that much harder to swallow – how much of it is genuine and how much of it is theater? While having Sutton on her side could be great for Emma, particularly since they'll be going against formidable opponents like Alec and Rebecca, she's not given Emma a reason to want her around. Can Sutton convince her sister to give her one final shot?
Elsewhere on The Lying Game, Ethan confronts Emma about shutting him out, Ted's behavior becomes more erratic, and Jordan picks a side in the war between Alec and Rebecca.
The Lying Game airs Tuesdays at 9:00 on ABC Family.
Do you think that Emma can trust Sutton? Will Ted entertain the thought of getting together with Rebecca? Whose side will Jordan end up on: Alec or Rebecca?
http://www.youtube.com/watch?v=usFIUmuTz6E