[FLOWPLAYER=http://www.tvovermind.com/wp-content/uploads/2013/01/lg-202-1.jpg|http://www.tvovermind.com/wp-content/uploads/2013/01/LYG202_fv1.h264HD-Clip1.flv,440,280,true]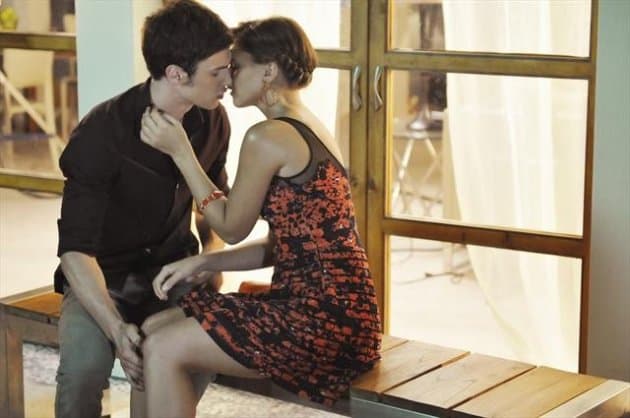 Just how genuine is this "new and improved" Sutton that made its debut during the season premiere of The Lying Game? We know that Rebecca has ordered her to make nice with Emma, but the two have never gotten along and this sudden change in disposition reeks of Sutton wanting to be able to flaunt Ethan in her sister's face rather than being a real about-face.
On the next episode of The Lying Game, Sutton makes her intentions quite clear to Emma, whether it be writing a paper for Ethan to keep him from flunking or giving him credit for her recent "honesty" kick. With Emma and Thayer getting closer recently, especially after everything that happened with Alec, Sutton has the control in the tangled love polygon that has been mutating since season one; if Emma dumps Thayer, she looks bad and could ruin what tiny alliance she has, an alliance that she'll need in order to combat any attack from Alec and snoop out information on Derek's murder and her birth mother. If she stays with Thayer, Emma will be giving her sister an opening to woo Ethan away for good and considering how cold the interactions between Ethan and Emma have been, it might not be hard to do.
Sutton also might have inadvertently hooked Jordan, the guy who Mads hooked up with in the premiere. While having another plaything is something to keep the manipulative Mercer busy, this is different, as it was revealed that Jordan is Rebecca's (step?)son. What exactly his plan consists of is yet to be seen, but once he gets enrolled in school, Sutton might not be the only Mercer he has his eye on.
Elsewhere on The Lying Game, Mads reveals a shocking family secret to Emma after visiting Alec in prison, while Dan continues looking into Derek's murder, only this time without Theresa.
The Lying Game airs Tuesdays at 9:00 on ABC Family.
Would you like to see Sutton and Ethan get back together? How long will it be before Sutton finds out Jordan's real identity? What is Alec trying to do with Emma and Thayer?
[FLOWPLAYER=http://www.tvovermind.com/wp-content/uploads/2013/01/lg-202-2.jpg|http://www.tvovermind.com/wp-content/uploads/2013/01/LYG202_fv2.h264HD-Clip2.flv,440,280]
[FLOWPLAYER=http://www.tvovermind.com/wp-content/uploads/2013/01/lg-202-3.jpg|http://www.tvovermind.com/wp-content/uploads/2013/01/LYG202_fv3.h264HD-Clip3.flv,440,280]