[FLOWPLAYER=http://www.tvovermind.com/wp-content/uploads/2012/12/lg-201-1.jpg|http://www.tvovermind.com/wp-content/uploads/2012/12/LYG201_fv1.h264HD-Clip1.flv,440,280]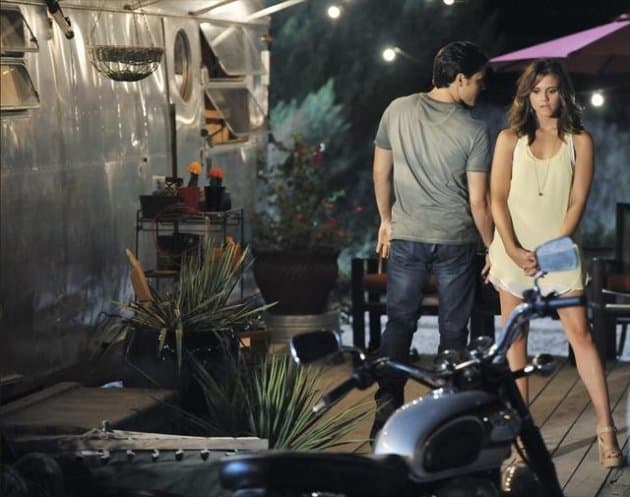 On the first season finale of The Lying Game, it was revealed that the birth mother that Emma and Sutton had been chasing all season was right there in Phoenix and only one of them knew about it. While Emma is still in the dark about the identity of her mother and running out of hope, Sutton has been in contact with her and planning something for the Mercer family. What do she and Rebecca have in store for Ted and Kristin and is Emma safe from their mind games?
When the second season of The Lying Game picks up, Mads is panicking about the potential of her father bailing himself out and raining hellfire down upon herself and her friends as a result of the arrest. However, Emma's come this far and can't afford to go slinking back into the night – she's got one shot to take Alec out and at this point, she has to go for it, lest she leave herself open to revenge.
Soon enough, though, Emma will have to deal with Rebecca filling her in on the plan. Rebecca wants to divorce Alec and reunite with Ted; then, she'll inform him of the fact that she had (their) twin daughters and procure the "perfect life" for herself and her girls after years of being apart. To do this, she and Sutton need to thwart Emma and Laurel's plan to get Ted and Kristin back together following the cheating revelation that tore them apart, but they're going to have to bring Emma in sooner or later. Unless things change, though, she might not be the easiest person to convince to do nefarious things, particularly if Sutton is involved. Might Miss Mercer have to atone for her poor behavior last season in order to appease her mother and keep the plan in motion?
Elsewhere on The Lying Game, Emma grows closer to Thayer while still battling feelings for Ethan, Mads meets a mysterious man that's hiding something major, and the rest of Ted's skeletons may be about to come out of the closet.
The second season of The Lying Game premieres Tuesday, January 8th at 9:00 on ABC Family. You can check out new cast photos here, including your first look at new Phoenix bad boy Jordan, as well as the episodes that will be shown during the Lying Game New Years Eve marathon here.
Will Rebecca be able to lure Emma into her plan for the Mercer family? How long will it take Ethan to come around? What type of secrets is Ted hiding from Kristin?
[FLOWPLAYER=http://www.tvovermind.com/wp-content/uploads/2012/12/lg-201-2.jpg|http://www.tvovermind.com/wp-content/uploads/2012/12/LYG201_fv2.h264HD-Clip2.flv,440,280]
[FLOWPLAYER=http://www.tvovermind.com/wp-content/uploads/2012/12/lg-201-3.jpg|http://www.tvovermind.com/wp-content/uploads/2012/12/LYG201_fv3.h264HD-Clip3.flv,440,280]