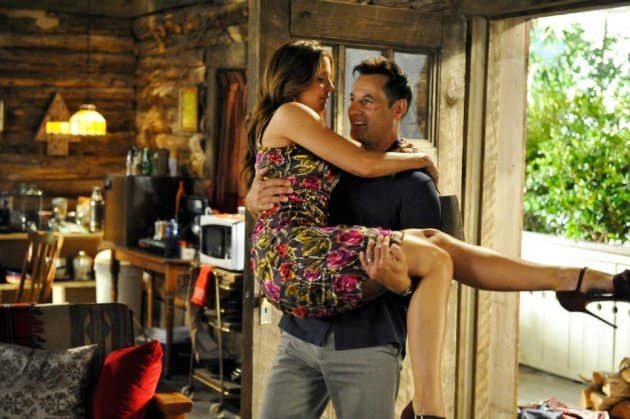 Rebecca's plan to get her "perfect family" back together on The Lying Game took a serious hit when Ted and Kristin began going to couple's therapy. The two aren't exactly back together yet, and Kristin will likely not be pleased if/when she finds out that Ted lied about everything being out in the open, but now's a good time to send Sutton out into the field to do work from the inside of the Mercer family. If there's anyone who could bring tension to the household and undo the  things that Emma and Laurel have done to get their parents back together, it's Sutton and judging by the sneak peeks from the next episode of The Lying Game, she wastes no time.
Ted has invited his family to an event in his honor and as luck would have it, Sutton has convinced everyone that she should be the one to give a speech for her father. We don't yet know what she's planning to say, but with the help of an increasingly anxious Rebecca, it's bound to be passive aggressive and just insightful enough to make everyone at the event uncomfortable. Sutton has also, in addition to tearing down Laurel's dream of being with Jordan, managed to get herself a chance to go to family therapy with Ted and Kristin. Will she be able to advance Rebecca's plan without completely burning her bridges with her parents?
Elsewhere on The Lying Game, Emma's discovery of what happened the night Sutton's car went into the lake makes her doubt her sister even more, while Rebecca and Alec engage in a game of cat and mouse with one another.
The Lying Game airs Tuesdays at 9:00 on ABC Family.
Do you think that Emma has a right to be mad at Ethan for what happened with Sutton? Just how close is Rebecca's plan to succeeding? Are you ready for Laurel to (finally) begin catching on to the drastic changes in personality that her sister exhibits?
[FLOWPLAYER=http://www.tvovermind.com/wp-content/uploads/2013/01/lg-204.jpg|http://www.tvovermind.com/wp-content/uploads/2013/01/LG-204-Clip1.flv,440,280]