[FLOWPLAYER=http://www.tvovermind.com/wp-content/uploads/2013/02/lg-207.jpg|http://www.tvovermind.com/wp-content/uploads/2013/02/LG-207-Clip1.flv,440,280]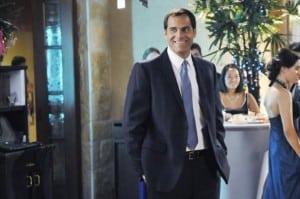 Last night on The Lying Game, Emma dropped her suspicion that Rebecca was the one who killed Derek after finding out that Ted had gradually taken $20,000 from the Mercer bank account without telling Kristin. That same amount of money was then found buried in Derek's yard, pointing to the respected doctor as being willing to kill to keep the secret of the twins. But did Ted actually wield the weapon used to kill Derek? And for that matter, could it be possible that he doesn't know that there are twins?
On the next episode of The Lying Game, Alec tells Emma that Ted doesn't even know that Sutton has a twin,  which would put a hole in her theory that he's her father. Of course, Alec is almost certainly lying about this in an attempt to throw the heat off of his long-time friend and keep Emma in the dark about who her biological parents are. He's not exactly been a paragon of honesty and virtue here lately and he has reason to steer Emma in the wrong direction, but (conspiracy theory alert) what if Alec is the father of Emma and Sutton? He's the one who harps on how dangerous it is for someone to know the secret of the twins, all but directly threatening Theresa in the most recent episode; to paraphrase from a great cable drama, what if Alec Rybak is the danger that he warns others of?
Elsewhere on The Lying Game, Alec decides to take Jordan on as an ally, Sutton's faith in Rebecca begins to falter, and Kristin and Ted's marriage continues to unravel, to Rebecca's delight.
The Lying Game airs Tuesdays at 9:00 on ABC Family.
Do you think that Ted is the father of the twins and killed Derek to keep the secret? How much is Alec not telling Emma? Will Sutton eventually break free from Rebecca?