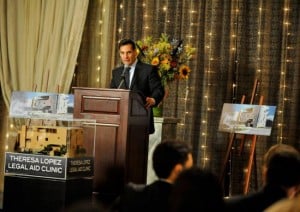 Theresa's death last week on The Lying Game showed that it's as dangerous as ever to know the secret of the twins. After getting closer with Alec and finding out sensitive information, the attorney was all but marked for certain death, meaning that whoever killed Derek likely killed her and doesn't show any signs of stopping. With Ted getting clued in on the twins, you have to wonder if he's going to be the next target of the person/people responsible for the recent string of deaths – that is, if he didn't already lie about his involvement in Derek's death.
On the spring finale of The Lying Game, the charity gala has taken a decidedly somber turn given the recent events. Everyone who knows about the twins will be in the same room at the same time, so while there'll be the dedication/announcement of the Theresa Lopez Legal Aid Clinic going on in front of them, they'll all have to watch their backs and protect themselves. The killer has proven that they'll do anything to keep the secret of the twins hidden and even at a crowded public event, that could mean that they'd be willing to take another person out while remaining in the shadows.
Elsewhere on The Lying Game, Dan delivers an ultimatum to Ethan that has heartbreaking consequences, while Emma confronts Rebecca over her childhood and Ted struggles to find a way to come clean to Kristin.
The spring finale of The Lying Game airs Tuesday at 9:00 on ABC Family. You can check out sneak peeks from the episode here. Be sure to click the link below to get a look at finale episode photos.
Given that the two previous finales of The Lying Game have introduced last-minute twists, what will happen at the end of the spring finale? How will Kristin react once Ted comes completely clean to her? Is the charity gala a cover for something more sinister?