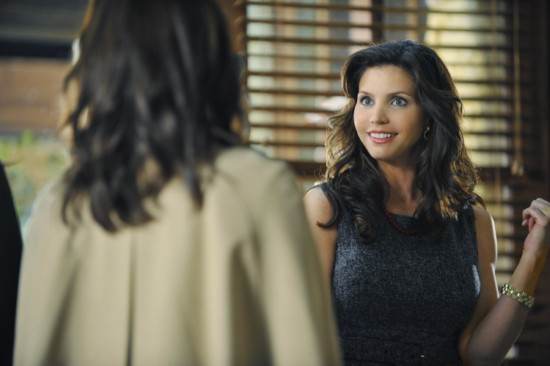 Rebecca Sewell's return to Phoenix rocked the back-half of The Lying Game's first season. Once merely thought of as a ghost of a former time, spoken about in hushed tones and kept away from the minds of the children, she became this living, breathing reminder of something that Alec and Ted would rather forget. Her presence unnerved Ted much more and made Kristin have doubts about her husband's fidelity, though Rebecca had eventually set her sights on Alec and having a friendly relationship with Sutton, Ethan, and Thayer.
But it was revealed that the mother of Emma and Sutton wasn't Annie Hobbs, nor was it some strange woman they didn't know. It was Rebecca. And Sutton knew it. It's not clear how long she knew, why they hadn't told Emma, or what they had in mind, but thankfully, The Lying Game will get the chance to clear that up, as Charisma Carpenter has been upgraded to a series regular. Now that Rebecca has become a much more pivotal character to the show, and the lives of the twins, the bump is only logical; plus, Carpenter was already fairly prominent in the final 10 episodes of the season, so it's not much of a stretch to expand her role and screen time.
The only question now is where does Rebecca go from here? For most of the season, she tended to be fairly harmless, but the facade was eventually lowered just enough so you could see the manipulative, damaged individual underneath. And that individual could be quite dangerous, if given proper motivation and resources, not only to Alec and Ted but to Emma, Ethan, and Thayer.
This past April, The Lying Game was renewed for a second season, which is scheduled to debut in early 2013. The show, along with Pretty Little Liars, was recently acquired by Netflix and will be available to stream around the time of its next premiere.
What did you think of the final finale reveal from The Lying Game? What do Rebecca and Sutton have in store for Emma in season two? Does anybody else know that the two are in cahoots?