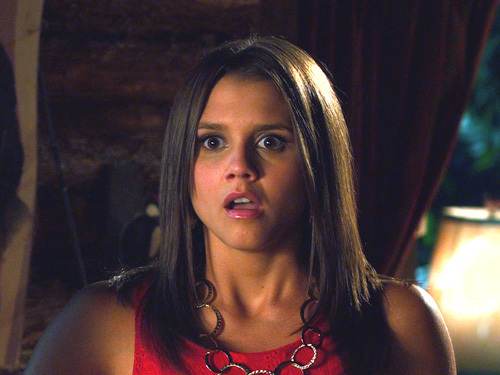 This past November, ABC Family's The Lying Game left us with multiple cliffhangers in its midseason finale, including the identity of the person with Sutton in the sinking car, the masked figure at the birthday party, and whether or not Emma would reveal her true identity to the Mercer family after 10 episodes of hiding. It was a frustrating yet exciting conclusion to the promising teen mystery, an ending that showed you answers could be on the horizon without giving us anything to gnaw on during the hiatus.
Fortunately, it looks like The Lying Game has returned with guns blazing in the promo and sneak peeks of its winter premiere titled "O Twin, Where Art Thou". Authorities have found the car that Sutton was in when she crashed into the lake, but there's no Sutton to be seen and it has even the closest of allies (Emma and Ethan) turning on one another. We also get to put a face/body to the disembodied voice of Char's aunt Rebecca (Charisma Carpenter), a woman seemingly poised to expose all of Alec and Ted's secrets. The third sneak peek, titled "Unwanted Guest", finds the terrible twosome noticeably uncomfortable once Rebecca arrives at the party; could the fact that she no longer goes by Annie mean that she knows something about the Annie Hobbes situation?
I'm curious to see how Rebecca fits into the mystery on The Lying Game, as well as how long the show waits before bringing Sutton back into the fold. Rebecca seemed fairly normal in the brief time we see her in the proceeding videos, but if there's one thing that The Lying Game has reiterated to me, it's that even the most calm, subdued people can be hiding something messy, dramatic, and delicious.
The Lying Game returns tonight at 9:00 on ABC Family. If you missed any episodes, missed the marathon yesterday, or simply want a refresher course in all things The Lying Game, there's a recap video on the second page, as well as a quiet moment between Ethan and an obviously frazzled Emma.