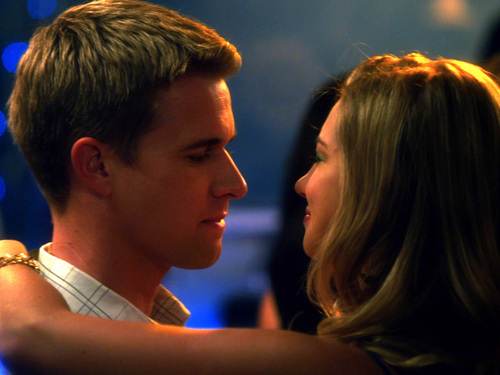 Last week on the winter premiere of The Lying Game, we didn't find out a whole lot and that was kind of the scary part. Instead of having Sutton physically reappear at the end of the episode, which saw the car she was driving recovered from the bottom of the lake, we still don't know where she is or if she's even alive. However, I'm willing to bet that the threatening note Emma received was somehow related to her twin and that Sutton will come storming in shortly, presumably hell-bent on revenge.
What better way to re-emerge than in an episode titled "When We Dead Awaken", right? Unfortunately, the three sneak peeks below don't capture Hurricane Sutton's gale-force tantrums, but they do indicate that what's been buried so far in The Lying Game will soon come to the surface.
Justin has some creepiness going on about his deceased parents, as there's something slightly unsettling about his reaction to Laurel finding the missing bracelet. Considering how uncomfortable he gets, I'm leaning toward some type of past between his family and Ted, especially due to the fact that Justin has never been that forthcoming about his past anyway. This is a teen soap and the pretty boy that blows into town with a sad background and a perma-grin is bound to have even juicier layers we've yet to explore.
Interestingly, Laurel is also indirectly dealing with Emma drama. This time she calls her out on her reaction to going on a college visit with Ted; you have to admire how astute the girl is, as Laurel has never been shy about pointing out how different "Sutton" is when everybody seems to accept it at face value. Of course, she tends to let it go pretty easily, but if she keeps picking at it, I wouldn't be shocked if she's the one to figure everything out.
The spectre of original flavor Sutton Mercer will be lingering over said visit to a college scout, if only because Thayer and Ethan warned Emma about how she'd react to the news. Sutton was on the verge of being offered a full-ride tennis scholarship and considering her (unfounded) paranoia about Emma stealing her life, she wouldn't take kindly to Emma's visit to TSNU. On the other hand, this could be the thing to smoke her out and get her to reveal herself, so maybe the trip to Texas can bring clear eyes to the search for Sutton Mercer.
The Lying Game airs tonight at 9:00 on ABC Family following Pretty Little Liars.
Will the college visit bring Sutton out of seclusion? Do you think she's the one behind the ominous A-like note? What connection does Justin have to Ted, if any?