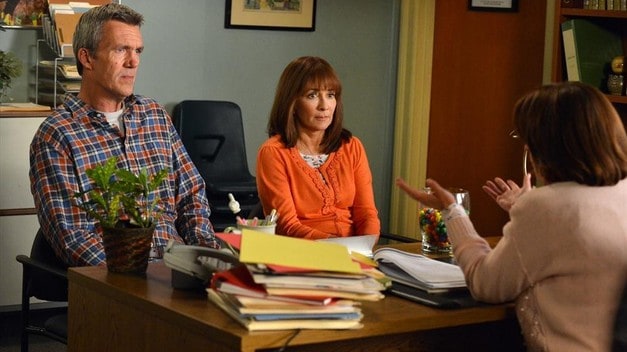 The Heck family never ceases to amaze me.  I don't think there is a more relatable middle class family on TV.  This episode was no different, as it featured a milestone in most teenagers' lives: a first job.
Sue had finally gotten her driver's license last season, and now she is desperate to have a car of her own to drive to school.  Sue, being the eternal optimist of the family that she is, was truly ecstatic when she realized that because she's 16 now, she can get a job.
Axl has started college, but because his school is only 42 minutes away from the Heck house, he pops up at home quite regularly.  This week, it is because his roommate is as messy and disgusting as he usually is at home.  Frankie and Mike basically tell Axl to deal with it himself, because they definitely don't have an extra $50 a month to get him a private dorm room.
Frankie and Mike start to sense that something is up with Brick when they realize that he hasn't been causing any problems for once.  They spoke too soon, because just then they got "the call" from his middle school principal (guest star Rachel Dratch).  Apparently he hasn't been attending any of his classes this school year.  Brick brought back one of his "tells", to whisper "I'm lying", when confronted by his parents about this issue.  It was funny to see that Brick still has his signature quirk of whispering under his breath, especially since he hasn't done it for a couple of years now.
Sue was hilarious when she got home to share the news with her mom that she got a job at a potato fast food stand in the mall.  A part of her uniform that she was super excited about was the pin that said "try our new tuna and cheese potato.  I love it!"  Once she actually tasted the potato sample she was given, she was disgusted with it and with her new job, before she even started.  I was cracking up when she was at work, and couldn't get through asking customers if they want to try the tuna potato, because she was so upset at herself for having to sell this lie.  Eden Sher is really one of the most underrated actresses on TV.  She brings Sue's innocence, vulnerability, and big heart to life each week.  I really don't know how she hasn't been recognized by any major awards yet.
By the end of the episode, the whole family learned a life lesson:  you just have to hunker down and ride through the rough patches in life because, as Sue's wise 14 year old manager said, "another potato will come along in a few days."  Sue is sticking with her job because she learned that the tuna potato was only a weekly special.  Axl is dealing with his roommate by setting him up with a girlfriend, in the hopes that he will start bunking in her dorm.  Brick has to start going to his assigned classes, not picking and choosing from any classes in the entire school.  Mike and Frankie will be waiting for the next potato in life, which I can't wait to see.
Catch The Middle's 100th episode on October 23rd at 8PM on ABC!