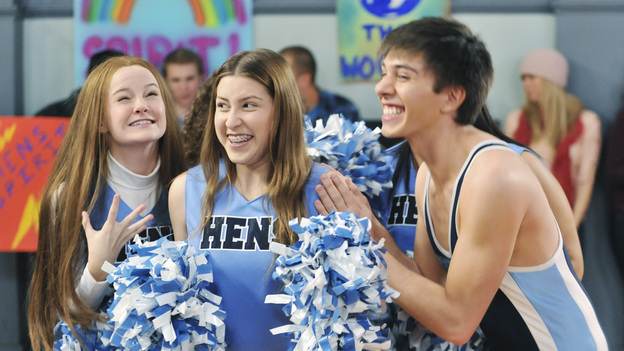 In a somber start to this week's episode of The Middle, the Hecks are returning from Aunt Ginny's funeral. It's a happy kind of sad, because she was old and died in her sleep, but Brick freaks out over the possibility of dying in his sleep. Axl, on the other hand, plans to freeze his head when he dies; the world is obviously going to want him back because he's so awesome. Frankie and Mike reveal that they wrote their will on a napkin, saying that Frankie's sister gets the kids. Sue is not impressed by all the death conversation and wants everyone to stay how they are right now, forever.
They return to remembering Aunt Ginny and the awesome cheesecake that she made, but when the kids want to stop to get cheesecake, Frankie tells them that people will be bringing food to their house. She explains that you're not supposed to cook when you're sad. Brick asks, "Are you sad all the time, Mom?"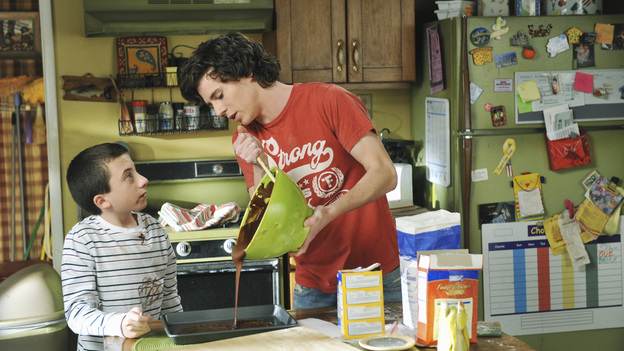 Back at home, the kitchen counter is covered with "bereavement food." Unfortunately, Axl ends up accidentally eating Brick's school project: a dough model of Indiana. Brick could tell the teacher that his brother ate his homework, but Frankie and Mike insist that Axl make another one. Axl is furious, because people should know that his first impulse is always to eat things. First, he and Brick try to replicate the dough Indiana, but can't figure out the recipe and burn the quilt that is stored in the oven. Next, they try a brownie mix Indiana, which works until they shape it (and eat it) down to nothing. Next, they mix dirt into pancake mix to ensure they won't eat it, but they learn that anything tastes good with syrup. Finally, they order two pizzas: one to eat and one to shape, and they make a fabulous model of Indiana. Axl declares, "We are revolutionizing the state relief map industry." When they check to see if they need to add a date or anything to the project, Brick finds out he was actually supposed to make a model of Texas. Too full to continue, they give up and Axl eats the Amish country.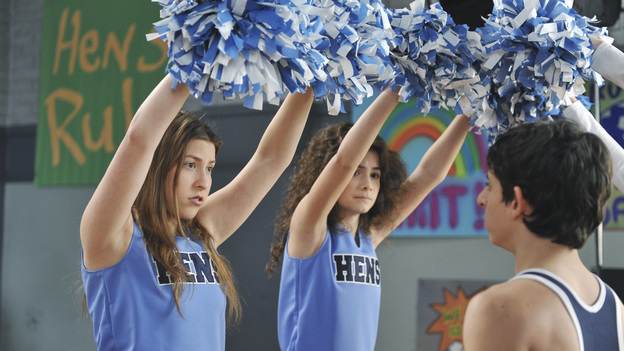 On last week's episode of The Middle, we saw Sue form her own cheerleading squad for the wrestling team. Sue's spirit is down after Aunt Ginny's funeral, so her cheers are less than enthusiastic. One of the wrestlers strikes up a conversation with her about his own aunt that died (but he didn't know her well and they didn't go to the funeral). Later, Brad tells her that this boy–Matt–said he liked her and asked if she had a boyfriend. This is an awesome day for Sue. She tries to tell the news to her dad ("Brad said a boy likes me."), but he's confused as to whether Brad said a boy liked him or Sue. Frankie has the same confusion, but eventually understands. Frankie asks Sue if she likes the boy, and now Sue is confused. The boy likes her, so she likes him. Frankie explains that liking is a two-way street and she needs to make herself happy first before she worries about boys too much. This is revolutionary for Sue, who says, "That's Oprah deep."
Aunt Edie, who lived with Aunt Ginny, keeps forgetting that her sister is dead. Poor Frankie has to continue to tell her, and Aunt Edie relives the sadness over and over again. Frankie decides it would be better if Aunt Edie didn't live alone, so she develops an ad for a caregiver: "Kind, responsible caregiver wanted to share lovely home with demented octogenarian, who is old of body but young in spirit. Drinking and smoking a plus. Must be willing to diaper emphysemic dog and possibly others." Any takers? When Frankie visits Aunt Edie again, they find Aunt Ginny's birth certificate that says she was born in 1911–they didn't realize she had turned 100 and never celebrated it.
Frankie gets upset that they "float" all the fun things in life so they have time for the crappy stuff. They didn't celebrate Aunt Ginny's 100th birthday. They missed a real wedding with meal choices. They often skip Mike's birthday and Easter. Sue recently asked her to attend her next wrestling meet, and she said no because she was too busy dealing with Aunt Ginny's estate. But it's not too late–Frankie leaves to watch Sue cheer.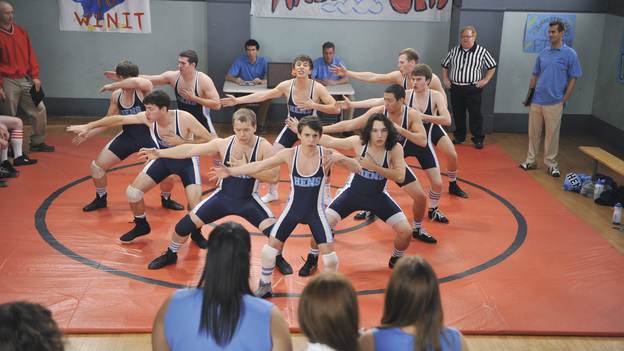 At the wrestling meet, Sue confronts Matt and he admits that he likes her. At first, he appears to be the opposite of Sue: never smiles and doesn't show any emotion in his facial expressions whatsoever. However, when Sue says she's a "woman of the tens" and she has to make herself happy first, he finds his inner Sue. He gathers up the wrestling team and announces in front of the entire gym, "I like you Sue Heck, and I'm not going to take no for an answer." The boys perform their own style of cheer and chant "Sue Heck!" She decides she likes Matt a lot. The best part: Frankie was there to see it.
Back at home, they decide to celebrate all the events they floated with a single cake, including Aunt Ginny's birthday.
Watch new episodes of The Middle, Wednesdays at 8pm ET on ABC.