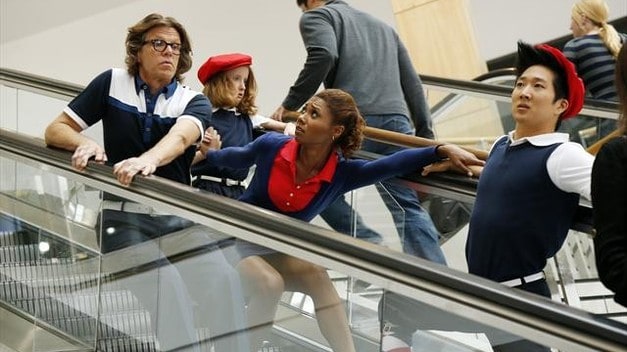 Week two of ABC's new comedy The Neighbors took family comedy to an interestingly amusing level.  Now that we know the neighbors are aliens, the stories in the show can delve more into how the rift in species affects the families, and last night's episode did that –with the Weavers taking the Zabvronians to the mall.
The Weavers' day begins after Debbie's nightmare that the aliens were kidnapping her children.  Apparently, it isn't the first time, making the Weaver matriarch a little paranoid about the Zabvronians watching them.  But this goes both ways.  Both families seem concerned about the other's intentions.  Particularly the Zabvronians' worries about their children hanging around the humans, picking up a desire to go to, dare we say… school.
In fact, the alien children, Dick Butkis and Reggie Jackson, go to the Weavers for help convincing their "parental unit."  And continuing with the theme of inter-species peace, the Weavers agree, and suggest helping the kids buy clothes that won't make them look like nerds, because "neighbors help each other out."
After Larry Bird gives a speech about their venturing outside of the neighborhood and a brief panic about the safety of the Weavers' mini-van, the Zabvronians finally arrive at The Jersey Commons mall, stunned at the automatic sliding doors, mall security on a Segway, escalators, in-mall massages and giant pretzels.  Human culture is entirely 'alien' to them.
Yet, they have very similar feelings and emotions – they just handle things a little differently.  Jackie Joyner-Kersee and Debbie worry over their children, Reggie Jackson has a crush on Amber Weaver, and Larry Bird and Marty commiserate over their kids growing up.
The Neighbors is definitely different, and so far has gotten very mixed reviews.  I happen to really enjoy it.  The second episode seemed like much more of an improvement from the first episode, giving the entire cast a little more screen-time, and set up more of the family comedy rather than continuing the human-versus-alien theme.  Though that still is the running undertone of the show the sit-com nature has become more prevalent in the second episode.
To read a recap of the pilot episode, click here.  As of right now, it appears that The Neighbors is slated for nine episodes.  The next few weeks will likely determine the new show's fate.
The Neighbors airs Wednesdays at 8:30 on ABC.