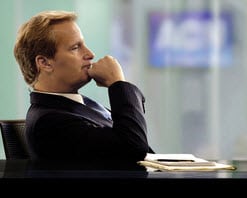 I've quite enjoyed this season of The Newsroom, which I've found to be significantly less preachy with fewer "rants of the week" than the initial first run. There's also a grand overarching plot that mimics the news without being directly about the actual news. Since 2011 didn't have any earth-shattering stories, Sorkin created one in the form of Operation Genoa.
Well, ratings are decent and it's enough for HBO to greenlight a season three of the show. HBO is usually good about nurturing their series, even if they're not runaway smash hits like Game of Thrones. And they have a LOT of a talent tied up in The Newsroom, so chance are it'll be on the air for a few more years at the very least. And I think as more people check it out on services like HBO Go, it'll catch on even more.
The news was announced by who else, Will McAvoy himself. Jeff Daniels was the first to say that The Newsroom was getting a season three on Twitter. The show has seen a slight dip in ratings to about two million an episode since last year, but the decline isn't enough to be worrisome, and again streaming numbers should add quite a bit to that. I think I've watched the last 4 episodes or so of the show online.
True Blood is finally coming to an end this year after seven seasons. Game of Thrones has previously said that it wants to run for seven seasons, but at that pace they'd have to somehow cram two books into one year which would be physically impossible. I predict nine or ten at least.