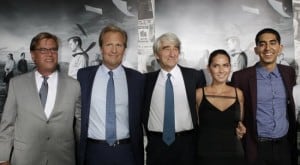 The Newsroom has a very divisive fan base. While some love the pacing of the show and just how much is going on at all times, some people will ALWAYS compare it to the (frankly superior) West Wing, seeing as to how they are both created by the same person, the brilliant Aaron Sorkin. But the people who do love it think it is one of the best shows on television, and that is a streak the show intends to continue, as you will see from this forthcoming clip for episode 5.
So what's all the hubbub about regarding this episode. Well, we will give you a quick taste, and then we can discuss it.
Treyvon Martin, huh? Well, that ought to be intense.
Never one to shy away from actual breaking news, in this case, The Newsroom seems to be working the Treyvon Martin case into their show, and we can definitely see how that could rile up some viewers, especially depending on how they approach it.
Also, the other thing we DEFINITELY saw hinted in that episode is that the Olivia Munn character seems to have a problem with some lascivious pictures which have leaked publicly. They say that art imitates life, and in this case, we can see how.
Will be curious to tune into episode five and see just how juicy it gets.