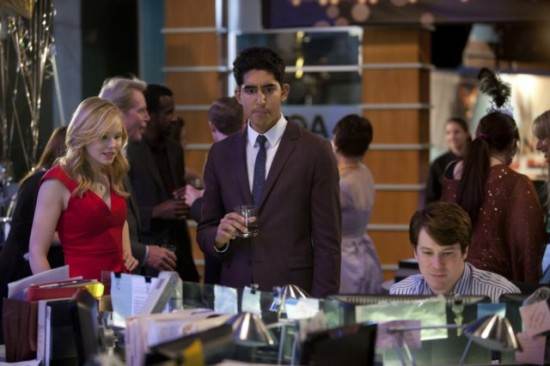 In its short run, The Newsroom has already covered the BP oil spill, SB 1070, and the shooting of Gabrielle Giffords, making for an eventful first batch of episodes that have tested the new team from News Night. But in the remaining episodes this month, the focus goes from national to international, with the ousting of Egyptian president Mubarak and the Japanese nuclear crisis demanding the world's attention. However, each aren't without their problems, thanks another nationally important story popping up and a last minute change of interviewer that could damage News Night before it can fully be reborn. Can the team combat the unforeseen problems and turn out a quality newscast?
Below are the initial air dates, episode names, episode descriptions, and repeat dates for the next two episodes of The Newsroom.
SUNDAY, JULY 22ND (10:00-11:00 p.m.)
'Amen'
In the midst of covering the ouster of Egyptian president Mubarak, the News Night team learns of a protest in Wisconsin against Gov. Scott Walker's bill to balance the budget by cutting teachers'jobs. As Maggie (Alison Pill), Jim (John Gallagher, Jr.), and Don (Thomas Sadoski) hustle to get side-by-side views of the simultaneous uprisings on air, Neal (Dev Patel) tracks down an Egyptian insider who can get on-the-ground updates from Cairo.
Other HBO playdates: July 22 (midnight), 24 (11:00 p.m.), 26 (10:00 p.m.) and 27 (8:00 p.m.)
HBO2 playdates: July 23 (10:00 p.m.), 25 (11:00 p.m.) and 28 (2:40 p.m., 9:00 p.m.), and Aug. 1 (10:00 p.m.)
SUNDAY, JULY 29TH
'Bullies'
A lingering bout with insomnia drives Will (Jeff Daniels) to keep a long-standing therapy appointment. Subbing for Elliot (David Harbour) during the Japanese nuclear crisis, Sloan's (Olivia Munn) strident interrogation of a Tokyo power-company spokesperson ends up jeopardizing her own career. After his rough handling of an interview subject, Will comes to recognize the causes and effects of being a bully.
Other HBO playdates: July 29 (midnight), 30 (8:00 p.m.) and 31 (11:00 p.m.), and Aug. 2 (10:00 p.m.) and 3 (8:00 p.m.)
HBO2 playdates: July 30 (10:00 p.m.) and Aug. 1 (11:00 p.m.), 3 (midnight) and 4(2:00 p.m., 9:00 p.m.)
The Newsroom airs Sundays at 10:00 on HBO. The show was renewed for a second season earlier this month.