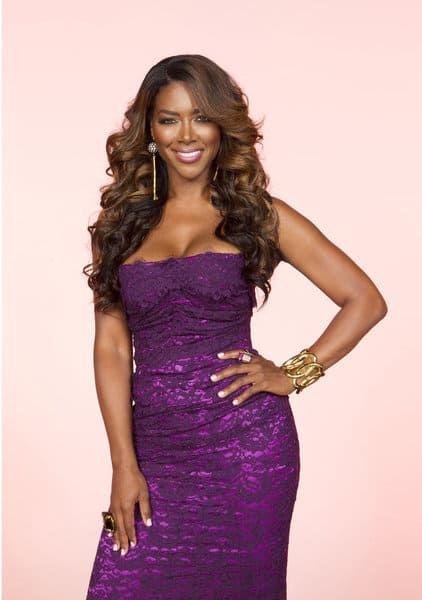 The Kenya Moore Reign of Terror continues tonight on The Real Housewives of Atlanta with new Housewife Porsha Stewart being the former Miss USA's latest unfortunate victim. Meanwhile, Gregg Leakes will pull out the old school charm to woo back his ex-wife NeNe Leakes, whose face has "Boy please!" all over it.
First, let's talk about the Kenya vs. Porsha debacle that will probably have fans wanting to beat Kenya down on sight if they ever saw her in the streets. For the past two weeks, Kenya has irked the hell out of the Housewives and fans alike with her always unnecessary Diva Dreadful attitude that makes Sheree Whitfield look like a saint. If you only knew how hard that was for me to put Sheree and the word 'saint' in the same sentence… Damn you, Kenya Moore. Damn. You.
Tonight, Kenya's narcissism meets a new high (or low) when she gets offended after newbie Housewife Porsha Stewart mistakenly calls her "Miss America" instead of "Miss USA," which Kenya finds to be highly disrespectful. You would think that Kenya was the President of the United States, or a Royal from England, by the way she reacts Porsha's mistake, which wasn't a dig nor a pitcher of shade being slung in Kenya's face. Yet, Ms. 'Gone With The Wind-Fabulous' has to make a scene out of a box of nothing, because the demon inside her requires another sacrificial lamb to make Kenya relevant once again. Take a look at the monster in action and Porsha playing the Final Girl role to a 'T':
I can't… And Porsha, God Bless her, has to come harder than that when dealing with beast during their next encounter. Then again, do we really want Porsha to stoop to Kenya's troll-like level?
While Porsha was getting Kenya's slime all over her, NeNe had to deal with the sap coming from Gregg in the form of a plea for not only a key to NeNe's new house, but to her heart as well. You can tell that Mr. Leakes comes from the days of the Isley Brothers and Al Green, because while his old school charm is kind of dated, it's still 'charm.' NeNe, however, is not trying to hear it, which is sad. Peep out the clip.
I don't know why NeNe is playing. She wanted to throw those keys at Gregg with the quickness, but was playing hard to get for the cameras. NeNe, you can't fool us when it comes to this situation with Gregg.
The Real Housewives of Atlanta airs tonight @8/9c on Bravo.