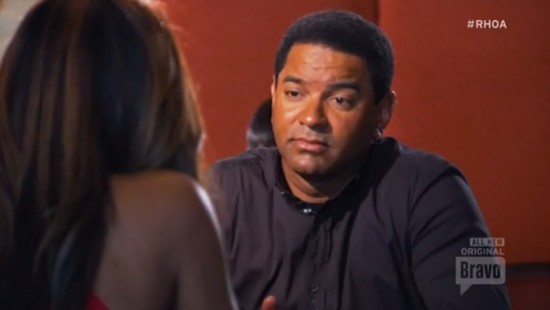 This past week, The Real Housewives of Atlanta ended with a bang as newbie Housewives Kenya Moore and Porsha Stewart came to blows after trying to make peace with each other, while veteran Housewives NeNe Leakes, Cynthia Bailey, and Phaedra Parks looked on in complete, justified bewilderment. Meanwhile, Peter and Cynthia renewed their vows in a very well put together ceremony, which pushed Kenya to further put pressure on her faux boyfriend Walter Jackson for a marriage proposal of her own.
If you still haven't heard, or just don't pay attention to behind-the-scenes RHOA news (I don't blame you), then you probably haven't heard about Kenya and Walter's relationship being the biggest sham to hit The Real Housewives of Atlanta since Sheree Whitfield's She by Sheree line went bust. NeNe even questioned the validity of the couple's status as, well, a couple during this week's episode and her Bravo blog, so it was a matter of time before we saw Kenya's lie blow up all in her "Gone With The Wind- Fabulous" face. I didn't expect it to be this early in the show's season.
In this clip provided by BravoTV.com, Kenya again pushes her hand in her quest to be married by season's end, while Walter, who is visibly blunt with her, finally pumps the breaks on the crazy lady's train of delusion tour. Take a peek and giggle if you must.
What could Kenya have possibly done to set off the usually chill Walter? Or better yet, should we even care as long as Walter bursts her wedding fantasy bubble?
While Kenya will face more embarrassment for the rest of the season, NeNe will get horse riding lessons from Greg in the next episode, and despite all of The New Normal star's nonchalant reactions to her ex-husband, it's bright as day that she still loves that man. Check the (soon to be re-wed) couple in action:
NeNe's final frame on the show should be of her and Greg remarrying and moving to Hollywood. It's the perfect way to exit the show, and if you don't believe me ask Lauri Waring Peterson of The Real Housewives of Orange County… She knew when to throw the towel in gracefully.
The Real Housewives of Atlanta airs Sundays @9/8c on Bravo.
Photo Credit: Bravo