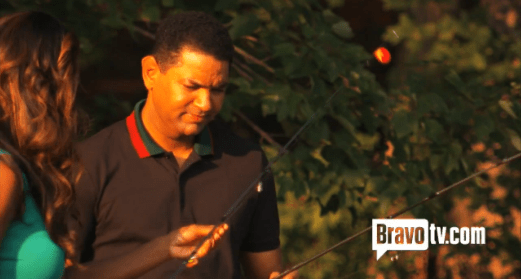 First of all, I want to apologize for this review of The Real Housewives of Atlanta being a day late. It's not a good way to start the new year, but Kenya Moore simply drained me emotionally and creatively last night and I just couldn't see myself donating another minute to her 15 minutes of relevancy. Yes, there were other positive factors from the episode, "Glam Mother NeNe" being a top highlight, but every time Ms. 'Gone with the Wind' Fabulous graced us with her presence, I felt as if I had run a marathon behind a hyperactive, emotionally thirsty child. But Kenya's nonstop whining was not really the source of my energy depletion. It's that we all know that this whole storyline is fake, meaning we know it will end badly in some capacity and the "will she leave or won't she?" mess is all for naught. So why bother and waste our time and energy? Bravo? I'm waiting for an answer.
Kenya, He's Just Not That Into You. At All. Period.
From meeting with her aunt to thanking Kandi for one of the former Xscape singer's signature sex toys, Kenya made sure to not only bring up how Walter was acting weird towards her, but she also made sure to state how Walter wouldn't touch her sexually, most notably in the shower in Anguilla. Any other woman would have jumped ship a long time ago, but not former Miss USA Kenya Moore. She needs a storyline and she needs one badly. So much that she would humiliate herself by begging and pleading with Walter to answer if he's even attracted to her or not, something Kenya should have deduced on her own months ago. If this didn't reek of being scripted, I would easily attribute Kenya's behavior to the emotional trauma she experienced at a young age. But as we all know, that's not the case.
Which brings me to my next point and then I'm going to hopefully leave this mess alone for the final time. Bravo and Kenya both have said how Walter's accusations were unfounded and the truth would come out later in the season. Well, I'm still waiting for the moment that will blow Walter's claims from V103's Frank and Wanda Show out the water and by the looks of last night's ending, it will never come.
Plus is it me or were Kenya's claims of "why isn't he attracted to me?" her way of insinuating that Walter is gay? Messy…
New RHOA Term: Glam-Mother
NeNe Leakes has created a new word to make young grandmothers feel wise, yet younger and more fabulous than ever. 'Glam-Mother' will most definitely be adopted by women in the late 30s to 50s who suddenly find themselves with a grandchild as soon as they send their last adult child out the door.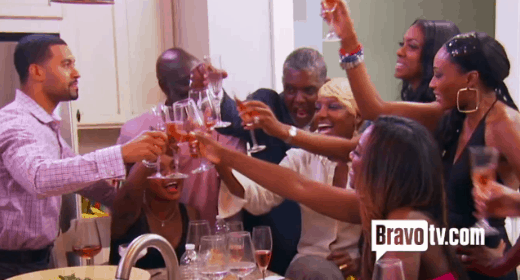 Speaking of which, how tacky was the way NeNe discovered Bryson even had a child coming? To be a fly on that wall once NeNe left the grocery store (NeNe found out by a chance encounter with the baby's mother, who pretty much said Bryson was hiding the pregnancy) and lit into Bryson's ass… Man, if we thought NeNe getting into her eldest son's behind for stealing razors from Walmart when he knowingly had money in his pocket was bad, just imagine her hearing through a random girlfriend of his that she's about to be a grandmother. Sadness…
But NeNe knows how to turn a negative into a positive with a nice big, pink bow. She handled the situation gracefully, if you ask me, and quickly quieted down all the blog chatter surrounding the subject.
Other Moments of the Night
– Porsha's reaction to Kenya's claims of people mistaking her as Beyonce was hilarious, because it matched my urge to vomit when Kenya told that lie.
– Kandi and Porsha's discussion about pre-nups had me siding with both of the ladies on their reasons of why or why not one should draft a pre-nup in case of marital issues. While love should be the focal point of any marriage (as Porsha pointed out), we live in a time where people tend to aim for the pockets as retaliation for being scorned.
– NeNe and Greg are thankfully back in their marital bliss and with the couple announcing their re-engagement last week, expect another The Real Housewives of Atlanta wedding to be in the making.
– Riley had a lot on her chest pertaining to Kandi and Todd's (Tod?) relationship last night. I'm glad Kandi let her daughter vent her frustrations, because this move also affects her as well.
Next week's episode of The Real Housewives of Atlanta seems to be one for the books with Phaedra and Kenya butting heads over the financial arrangement surrounding the "donkey booty" video. Didn't Phaedra learn her lesson last year after dealing with Sheree Whitfield that friends are the worst business partners? Oh well, at least we get some arguments out of Phaedra's ill-advised urge to work with friends.
Photo Credit: Bravo