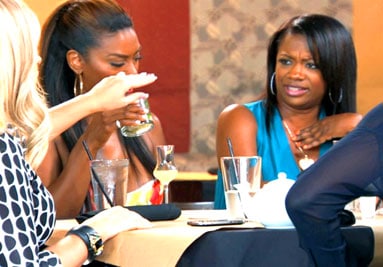 Now THIS is what The Real Housewives of Atlanta should be all about!
After releasing a lackluster :30 second trailer a month ago announcing the return of The Real Housewives of Atlanta, Bravo made up for that faux pas by releasing a full super trailer for the show's upcoming fifth season on last night's Watch What Happens Live! episode and man did it bring the fire!
Some of the craziest moments of the trailer mostly include the two new Housewives, Kenya Moore and Porsha Stewart, as they come to blows with each other instead of the veterans on the block. Plus, NeNe Leakes and Kim Zolciak-Biermann make nice? Kenya tries to make a play at Phaedra Parks's husband Apollo? That's some of the WTF moments featured in the 3 minute trailer. Have a look at what else you can expect when The Real Housewives of Atlanta returns Sunday, November 4th:
It's perfectly clear that Kenya Moore will be the person to watch this year, because if the blogs are accurate in their reporting when it comes to this woman, she is going to act a damn fool. Another part of the trailer that had my ears singing was the intervention with Kim on not being around the group anymore. Will that particular scene be the official swan song for Kim to migrate over to her own alleged series? I wouldn't put it past Bravo to make Kim's "exit" as dramatic as possible.
So what do you all think of the upcoming season of The Real Housewives of Atlanta? Plus, am I the only person going "Sheree who?" after seeing Kenya Moore in action?
The Real Housewives of Atlanta Season Five premieres on Nov. 4th @10/9c on Bravo.