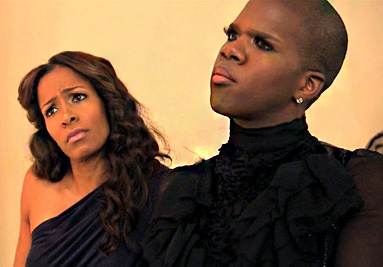 On tonight's episode of The Real Housewives of Atlanta, the wives are confronted with recent issues that resulted from their trip to Africa, with several falling back into old habits once back in the ATL.
Kim is still at her wits end with Sweetie, as the latter refuses to work that hard anymore. Not that I can really blame her, considering Kim only knows how to berate and yell to get her way and that type of behavior isn't exactly motivating. Kim's smart enough to understand that the boundaries between the two are all types of messed up, but there doesn't seem to be any solution remaining aside from the inevitable firing.
Miss Phaedra has gotten back in the funeral game after a few episodes away, this time getting tips on the embalming and hair/make-up of a corpse. At this point in the season, the ultimate southern belle is the only cast member of The Real Housewives of Atlanta that I enjoy and I'm happy to have her in any episode, especially when she's away from the drama. I don't know how the funeral business is going to pan out for her and Apollo, but hopefully we'll get to follow her each step of the way.
Cynthia and Peter are coming up on their one year anniversary and you know what that means? A party that's not within their budget to impress people who don't really matter. Sigh. Aside from Peter continuing to demonstrate why he's so triflin', he makes sure to pre-emptively throw shade at Mal, this time barring her from their limo ride to the party. I understand wanting to keep your distance from someone you don't get along with, but if you have to be together at certain events, there's nothing wrong with being cordial and polite, at the very least. All this petty little sniping makes everybody look like they're 12 years old and it ain't cute.
Elsewhere on The Real Housewives of Atlanta, Lawrence confronts Marlo over the controversial gay slur she used in her fight with Sheree. Marlo, of course, lies about what she said, but I have a distinct feeling that Sheree won't let her off that easily. Just a hunch.
The Real Housewives of Atlanta airs tonight at 9:00 on Bravo. If you missed my review over last week's episode, where Kim confronted Kandi over her comment in Africa, you can check it out here.