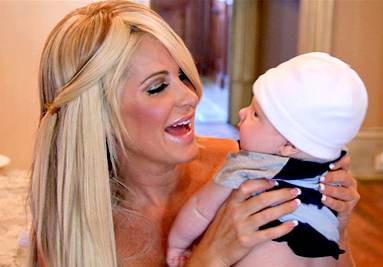 The Real Housewives of Atlanta has never been a show about complexity. We may get a nugget of reality once in a while, but for the most part, the wives stick to their typical behavior, ignorance and all. It can make for greatly entertaining TV, a whirling ervish of messiness if you will, but there are times when you just want the wives to be themselves, as opposed to who the show paints them to be.
On last night's episode, several wives seem to have watched reruns in order to know how to act. Everybody had really poor moments once they hit the spotlight and to be frank, I don't know if I really like anybody anymore. Kim's clueless bimbo schtick, for one, has gotten very old for me; it's not cute to be helpless and rely on other people to do every little thing for you, so while the lasagna situation was obviously meant to be the stuff of wacky sitcom lore, I just couln't deal with Kim's indignation about how tired she was. From doing what, you ask? The world may never know. Kim claims to be working from home, but her work involves checking her e-mail and she has a nanny to shove KJ at whenever he's not being a chunky bundle of joy. Brielle and Ariana are pretty self-sufficient, so it's not like Kim is busting her hump caring for them, so the "overworke little woman" thing she puts on is very fake.
I did like her coming at Cynthia for her ugly comment in Africa, but I don't know that Ayden's dedication was the exact place to do it. I don't know what would have been appropriate at that fiasco, though, as Phaedra pulled out another dose of grandiose ratchetry not seen since her baby shower. Earlier this season, one of the wives commented about how people from Atlanta like to try and appear wealthy to impress other people, even if they're not doing well. Phaedra may be one of the richer wives, but she falls into that trap of wanting to be the toast of the town, hyping up a one year old's celebration like it was the gala of the century. Now you know and I know that Phaera loves her baby, but why not do something for him on his special day? He's not going to remember anything about this anyway, so it doesn't matter about walking formations and tacky photos hung by the chimney with care; celebrate Ayden and let the little boy have some fun. Putting an energetic child in an itchy suit in a crowded, hot church and reception hall is just asking for trouble.
Damon asked for trouble by bringing Sheree with him during ring shopping. Broke, bitter, and living vicariously through her daughter, heree was way too pushy about the ring and the presentation, likely being one of the reasons amon decided to wait to propose. I totally get wanting your daughter to be thrilled and have a moment to always remember with the proposal, but maybe something intimate and small is what she wanted. Maybe she's not about the glitz, pomp, and circumstance like heree is; I mean, Sheree had a big engagement ring and married a well-off man and, well, here we are, so does Sheree want her daughter to be as bitter as she is in 20 years? Let them live their lives because they're obviously doing something right, having been together for 7 years and counting. I'm sure Tierra would be thrilled with any type of ring given to her any type of way because the man she loves is the one giving it to her.
Sheree should be more concerned that he's a good guy with a future (who doesn't "believe" in divorce, which is naive and scary), not trying to get a big ring and a flashy engagement out of the deal.
The Real Housewives of Atlanta is a cast full of stunt queens, posers, and hot messes that veer too far from actual human behavior to be sympathetic. Last night's episode was a prime example of how weird and out-of-touch everybody's gotten, to the point where, in a cast I used to find endlessly entertaining, I'm not sure if I like anybody. Phaedra gets points for her one liners and how much she plays to the cameras during confessionals, but otherwise, it's pretty barren if you're looking for somebody to like. And everybody knows that a proper reality show has to either be a trainwreck or feature likable characters; unfortunately, The Real Housewives of Atlanta has neither going for it right now.
Thoughts, Quotes, & Observations:
-"Bam! Bam! Bam! I love that part."
-"Oh, Ayden looks like he could sell a bean pie."
-"I'm hoping that we all get along and think about the love of Christ."
-Kim's expecting again. Lord help us all.
-Cynthia, as clueless as ever, had some nerve coming at Kim for being late, when she and Peter were late to Kim's baby shower (and acted ignorant once they got there.)
-Kandi, let your daughter be a child. There are child labor laws, Kathie Lee.
-Dwight was serving mannequin realness, complete with oversized hat and desperately shiny mug.
-Next week on The Real Housewives of Atlanta: Phaedra becomes a mortician, NeNe goes to LA to become an actress, and Kroy asks Kim's dad for her hand in marriage.