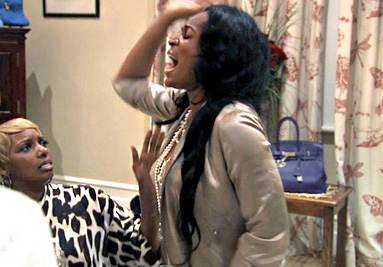 Believe it or not, The Real Housewives of Atlanta have seemingly put their differences behind them.
After visiting an orphanage last week and delivering hundreds of dollars in toiletries, the ladies all became noticeably touched by the experience, particularly the palpable joy that emanated from the smiling, singing gaggle of children they came across. It was a sharp contrast to their toxic opening days in South Africa and served as a further reminder of just how good they have it in their everyday lives. A majority of the preview clips that Bravo has released for "No Bones About It", the season's 14th episode, indicate that this appreciation and serene sense of bonding may last the rest of the vacation time the ladies share.
Now that they're getting along, they take in a museum that highlights the Xhosas of South Africa, including a look at how patriarchal their gender politics still are in 2012. Marriage came up again in a trip to a sangoma, a "bone reader" that told the current situation of several ladies and forecasted a future of Sheree not being married again. It's the most negative and disrespectful of the clips, as Phaedra almost walks out beforehand, Marlo makes a typically tacky remark about the Bible, and nobody really seemed to approach it with an open mind. You don't have to believe everything he says, but openly laughing at him and making a smart ass comment on your way out isn't the classiest way to represent yourself.
Even Kandi and Marlo, two people that have never gotten along from the latter's introduction into the show, are bonding, though the intersection of their personal venn diagrams is all about the joy of talking about sex and it's many forms. (Hence Marlo's participation in Kandi Koated Nights, I'm sure.) However, as needed as a giggly night talking about boys was on a tense trip like this, Kandi may be looking for more stress relief soon, due to a likely argument with Kim waiting for her when she comes home. After uttering an ugly comment about Kim's "real reason" for not coming to South Africa, Kandi gets called out on it by Sheree while on the phone with Kim, to her chagrin.
The real housewives of Atlanta are winding down their trip to South Africa, but before they go, it looks like they'll be taking in some culture, getting last minute girl time with one another, and making themselves look like the prototypical ugly Americans.
The Real Housewives of Atlanta airs tonight at 9:00 on Bravo.