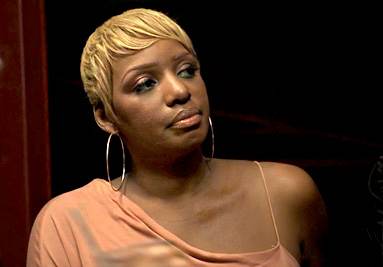 You guys, one of The Real Housewives of Atlanta has a gun.
No, for real. A Real Housewife. Atlanta. Gun.
You'd think that on a show known for shade throwing and corrupt social politics we could ease up off the firearms, but on tonight's episode of The Real Housewives of Atlanta, Kim purchases a 9mm hand gun after going through shooting lessons. It's all at the behest of Kroy, who brought it up earlier this season, but that doesn't change the fact that one of these women has a gun. Luckily, Kim is very mellow nowadays and not as "in the circle" of drama as she once was, so I think that NeNe can rest easily, if she can find a spot to rest that doesn't have gifts piled up from her new rich beau.
Phaedra is trying to bring all the hens together with a proposed trip to South Africa, which Cynthia embraces and NeNe all but spits in disgust over. Knowing The Real Housewives of Atlanta and reality television, there's no way on Earth that anybody doesn't make it on the plane, so NeNe can miss me with the theatrics. More accepting of the trip is Kandi, whose insecurity rears its ugly head again as she goes on a last minute quest to lose weight before departure.
More importantly, it looks like the Marlo drama that preceded season four, most notably her arrest record, will finally be addressed after a blog search turned up valuable information on the socialite. Marlo hasn't been a big part of the action this go around and I wonder just how much her past indiscretions will rile the others up or bring her into the fold more.
And don't look now – it's another tension filled dinner party, a Real Housewives staple. Mama Joyce, of all people, looks to be trying to bring Kim and NeNe back together and if that happens (or at least doesn't end in a violent screaming match), someone get this woman to the middle east to heal the rest of the world along with The Real Housewives of Atlanta. But somehow, I'm not seeing much success this go around for Kandi's mama.
The Real Housewives of Atlanta airs tonight at 9:00 on Bravo.