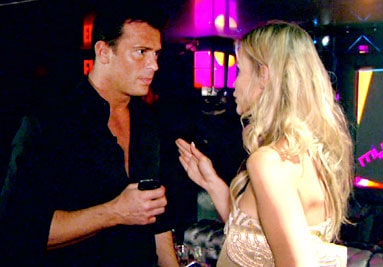 Last night's episode of The Real Housewives of Miami showcased the extreme dangers of mixing harbored feelings with a well mixed alcoholic beverage, which In Joanna's case, made her look like a complete and utter jackass. And I hate seeing Joanna look like a complete and utter jackass, so you can easily guess what my feelings are about this outing of The Real Housewives of Miami.
At the start of the episode, Joanna frolicked happily with Romain in their bed and was his cheerleader when he officially became an American after passing his citizenship test. Joanna also made sure to tell the audience how Romain's posh club Mynt did the near impossible by not only staying open, but relevant as well, within the Miami community for 10 years. Basically, all was well in the world of Joanna and Romain, as if nothing in their world could even deter the high they were riding on.
Except Joanna's sister Marta.
Now let me be clear: I have no qualms with Marta, because at least she's making a move to get out-of-the-way of Joanna and Romain's personal space by any means necessary. It's just that Mynt, Romain, and Marta are not a good mix, yet Joanna is constantly trying to make all of them work despite seeing that she's creating a living Molotov cocktail in the process. When Marta announced Lisa's proposal for Marta to move i with her to give Joanna and Romain some much-needed personal space, Joanna balked and disagreed with the proposed arrangement. And she wonders why Romain hasn't engaged in sex with her for so long…
At a pre-sushi gathering Lisa hosted before Mynt's 10 year bash party, Joanna and Marta argued over Romain and his treatment of Joanna's lil sis. Joanna begged her sister to not start any drama at Mynt, because it was Romain's night and it should be treated as the milestone event that it is. However, like Lisa stated, Joanna should have taken her own advice in abundance.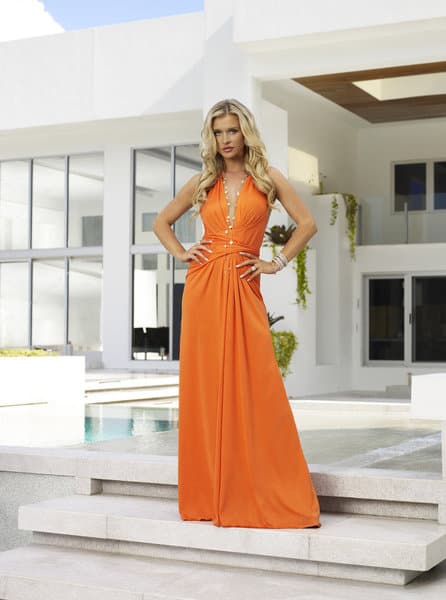 After a few drinks, not only did Joanna stir the pot between Marysol, Lea, and drag queen Elaine Lancaster (more on that in a bit), she also went on a random tantrum when she spotted Marta's ex in the club and acted as if she was the one who got her heart trampled on. Unfortunately, this is where Joanna earned her jackass stripes and a "Have a seat." sticker for the night.
Of course, Romain was embarrassed and left his own establishment to cool down, which was also unfortunate. Then to make matters worse, Marta was also furious, because not only did it make her look like an idiot as well, but Joanna's outburst will probably add tension to the already strained relationship between Marta and Romain. And we all know they don't need that. Finally, if I was Marta, I would have asked Lisa when I could pick up the key to her place immediately after Joanna went bonkers. Just saying…
While Joanna had her issues during the night, Lea Black and Marysol Patton revealed a bit more about why they are not really the best of buds this go around, and that reason is Elaine Lancaster, the much talked about Miami drag queen who got little to no screen time last year.
According to Elaine, Marysol prevented him from walking Lea's Black Gala event last year, which was a slap to the prominent drag queen's face since she and Lea are thick as thieves. Elaine felt that it was a personal attack on Marysol's part and wanted her to own up to the diss. However, Marysol claimed that Elaine got her events wrong and that a client Marysol was working for at another event didn't want Elaine walking the red carpet. Since that certain client was writing Marysol's check, she only did her job and reassured Elaine (rather sternly) that it was nothing personal. Actually, Marysol was clearly tired of talking about it, because it seemed as if it was the hottest gossip at the moment. But like Marysol, I could care less about the issue, because it seemed tired before it was even presented on the table.
Also, Lea Black was offended that Marysol told the other ladies that she didn't want to do Lea's Black Gala again due to it being disorganized and a headache. Well, Lea said that was basically a bald-faced lie, claiming that she actually didn't invite Marysol's PR firm to work the event in the first place, so… Ouch?
Finally, there was one other incident that took place during the episode that must be discussed and that's Lisa and Joanna's complete, blunt comments on Mama Elsa's face/cosmetic surgery incident. The girl's just let their feelings be known about the Mama Elsa's 'condition,' while Adriana looked on in shock and awe. I bet Mama Elsa has some words for those two and I cannot wait to read whoever's blog that will comment on the incident first.
What did you all think about this episode of The Real Housewives of Miami?
Photo credit: Bravo