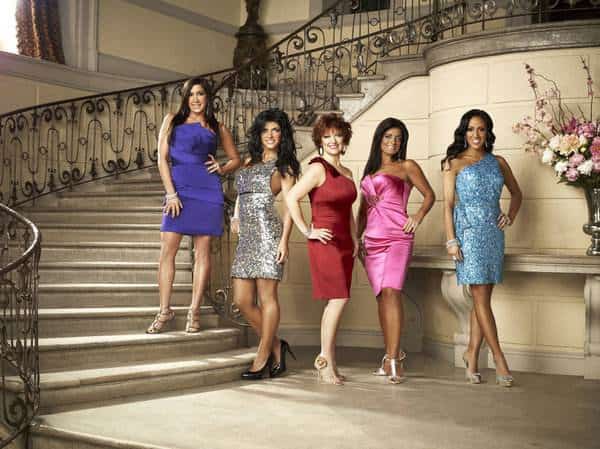 Last week while I was on a business trip, the trailer for the fourth season The Real Housewives of New Jersey was released and I couldn't help myself from sighing in exasperation at the return of the Franklin Lakes divas so early in the game. The trailer itself (which you can find at the end of the article for those who haven't seen it) was heavy on the much talked about rumors of the war between Teresa Giudice and Caroline Manzo/Jacqueline Laurita, but not skimping on the still simmering inner conflict between Teresa and her sister-in-law Melissa Gorga. In other words, this upcoming season will continue to be as awkward and cringeworthy as last year's family feud hell, especially with Caroline and Teresa being on opposite corners of catfight central. It is these facts, plus others, which is why I'm not looking forward to the new season of The Real Housewives of New Jersey. Here's why:
1) Teresa vs. Everyone
Yes, the fact that Teresa has to not only spar (at times) with Melissa and Kathy this year, but Jacqueline and Caroline as well does not sit right with me. Unlike Teresa and the Manzos/Lauritas being against Danielle Staub in New Jersey's first two seasons, this is a whole other ballgame, one which I'm not sure if I want to see who will come out of this a clear winner or not. In fact, in my eyes no one will be a winner when the smoke clears, because again, families will be the casualties, not just (reality show based) friendships. Which brings me to my next issue…
2) Not Feeling Mama Caroline This Time Around
This isn't a 'maybe' here, it's a definite fact. Every since the finale, I felt that Caroline would just bow out of being Teresa's friend and that was it. However, when we got to the reunion, she not only sided with Melissa and Kathy in taking a dig at Teresa every chance she got, but she also declared that Teresa was and always had been an 'acquaintance' of the family and not really a close friend. When I heard this my heart shattered, because I knew Caroline would forever be tarnished in my eyes for that comment and the new trailer didn't help matters.
It would have been one thing if Caroline had of just let Teresa and Melissa slugged it out, giving her scathing commentary/TRUTH from the sidelines and not picking sides in the battle.
Instead, Caroline has done the complete opposite and is looking hella messy in the process. Should she be mad at Teresa for what happened last year? Yes. However… Jumping ship and joining the ranks of Melissa and Kathy, who Caroline has went on record many times to declare she didn't know much about either Gorga relative, looks very shady and is a complete unraveling of Caroline's character. I am simply not (nor will I ever be) a fan of this foolishness and it needs to stop. Period.
3) Where is the Revamped Version of The Real Housewives of New York City?
The Real Housewives of New Jersey ended way after the Real Housewives of New York City finished their run (RHONJ – Oct. 2011/RHONYC Aug. 2011), so I felt that we would get the New York Housewives first with New Jersey being saved for the beginning of the summer. In other words, I'm more interested in seeing the new dynamics of the reconstructed RHONYC cast than I am with the prolonged drama of the RHONJ women.
There was a time that I couldn't wait for the new season of the Real Housewives of New Jersey to hit my TV screens, but that joy has dissipated and has been replaced with a vat of foreboding dread. Now I'm not sitting here being hypocritical about not wanting drama on the Real Housewives of New Jersey. That's like football without any tackles, fumbles, or sacks. Like I said in my reviews from last year (which I didn't even bother doing a finale review), I just don't care for the inner family conflict. Maybe it's because I, myself, come from what some folks would call a very tight-knit family, who don't care about that level of fighting within that bond. I don't know. One thing for sure is that I will be watching the premiere of The Real Housewives of New Jersey with my hands over my eyes, peeking periodically to dare myself to take in the horror on my TV screen; which when you think about it is completely a sick, sad way to watch what used to be a favorite television program…
The Real Housewives of New Jersey will return to your TV sets on April 22nd, @8/9c, only on Bravo. Will you be watching? Let us know your thoughts below.
Check out the trailer:
Photos by: Tommy Garcia/Bravo