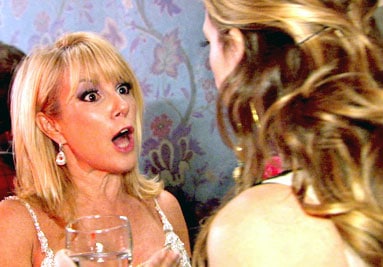 Tomorrow is the season finale of The Real Housewives of New York City where Ramona Singer looks to be the target of choice for a complete teardown by Aviva Drescher and, surprisingly, Heather Thomson. Just when you thought Aviva and her pervy dad George would be called to task for showing their asses last week, the two seem to have weaseled their way out of the topic of discussion. Or Ramona just didn't know when to keep her mouth shut again, possibly incurring the wrath of Heather once again.
In the first of two clips released by Bravo, Aviva practices her runway walk for Heather's fashion show and still manages to bring up Ramona during the practice run. Really, Aviva? Passive-aggressive, much? Also, what was up with Heather directing Aviva to be a black woman on the runway? There have been a plenty of Caucasian runway models who have stumped the runway into a stupor without scarring the bottom of their heels. Maybe Heather thinks that she's a black woman in a white woman's body? Hmmm…
In the next clip, the animosity between Ramona and Heather seems to have resurfaced following another incident over Sonja's toasters and the creative direction on how to market the damn thing. It's clear that Ramona should not have any input whatsoever in Sonja's business affairs, but can Heather forgive Ramona this time around? We hope so…
Did Ramona just throw Sonja under the bus? Bad move, Mrs. Singer…
Next week, The Real Housewives of New York City reunion will either be insanely epic or an unbearable headache. Either way, the wine is chilled and we are ready for take off.
What are you guys hoping will come out of tomorrow night's finale?
Photo Credit: Bravo