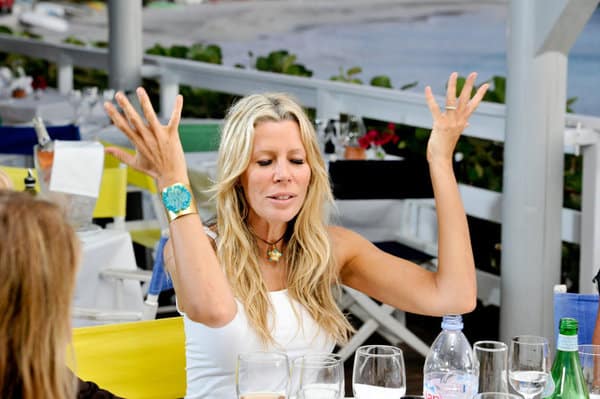 Last Monday on The Real Housewives of New York City, the St. Barth's vacation hit a snag once Aviva came to town and clashed with Ramona and Sonja over Reid's presence at the beach house. Tonight, that snag will become a severe, ragged hole as Ramona, Sonja, and Aviva have it out once again over the whole "Girls Vacation" scenario. Meanwhile, Ramona and Sonja try to figure out just how insulted should they be by being called "White Trash" by Aviva.
Aviva's "white trash" argument was so bizarre that even Sonja compared it to dealing with Kelly Bensimon, which is saying something, because I doubt even Kelly would stoop that low to hurl such an insult. Now don't get it twisted. Kelly would have reached into her bag of lollipops and gold to for a showstopping, yet looney jibe for Ramona and Sonja, but nothing as crass as what Aviva came up with. Also, I'm not declaring that Kelly is saner than Aviva, just more "word efficient."
With that said, the first clip showcases how Ramona and Sonja feel as if their 'girls weekend' is ruined and that they are public enemy number one since no one joined them for breakfast. They then decide to Google exactly what the slur 'white trash' actually entails, while their chef looks on in bewilderment. Poor chap…
Here's that clip:
The next clip involves the second fight between Aviva and Ramonja over the "warm welcome" Aviva received when she arrived in the last episode. If I was Carole, I would seriously send everyone packing, because I would be damned if I let these women ruin my vacay over something stupid as their bruised egos and anxieties. Color me heartless, but there is a limit for the level of B.S. one can take, and with these women, that level would have been shattered a long time ago. Take a look for yourself and pray that Carole has some sort of therapy in the form of some type of hard liquor at least 15 feet away from her in order to deal.
Was it just me or did Aviva enter without knocking despite saying that she did? She came into the room too quickly for me, but anyway…
Last but not least, in a poll conducted last week TVO readers voiced their opinion on who they thought was mostly off their rockers during the fight and the results nearly reached landslide type numbers. Aviva lead the poll with 51% of viewers who felt she was way out of line for her outburst, while Ramona and Sonja received 17.39% of the vote and 23.91% of viewers felt that all the women involved should have been hit with an etitquette stick or two. Will your vote change after watching tonight's episode of the Real Housewives of New York City?
We suggest you guys pre-game for this episode with a lot of wine or a lot of aspirin. I sure as hell will.
Photo by: Xavier Merchet-Thau/Bravo