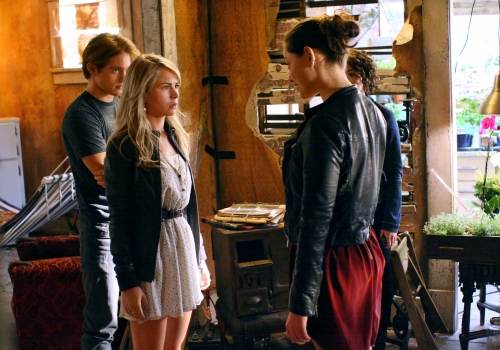 Tonight marks the series premiere of the new teen drama, The Secret Circle, on The CW. To help prepare you for the series, we've put together a collection of spoilers for the first four episodes of the series. Below the spoilers is a series featurette from the network which features several scenes from the pilot, as well as interviews with the cast members
Episode 1.01 "Pilot" (September 15): Cassie Blake is a normal girl until her mother dies in a mysterious fire. Now an orphan, Cassie is forced to move to the small town of Chance Harbor, Washington to live with her grandmother, Jane. After arriving in town, Cassie becomes friends with the kindly Diana Meade, who introduces her to her friends: Faye (the bad girl), Melissa (Faye's side-kick), Nick (Cassie's neighbour) and Adam (Diana's boyfriend). Cassie and Adam immediately feel a connection to one another, but Cassie is soon distracted when strange things begin to happen. Her new friends are forced to tell her the truth: they are all witches, Cassie included, and her arrival is meant to complete their Circle. As it turns out, Diana's father, Charles Meade, secretly brought the Circle together because he has plans of his own for them.
Episode 1.02 "Bound" (September 22): After learning that she's a witch in the series premiere, Cassie decides she doesn't want anything to do with magic. To try and live a normal life she becomes friends with non-witch Sally Matthews (guest star Logan Browning). But Cassie's presence in town has ramped up the powers of all the Circle members. Diana wants to bind their powers before they get out of control, but Faye won't have it. She's enjoying her increased powers. Melissa flirts with Nick, despite Faye warning her not to do so. Adam and Cassie try to fight their growing feelings, but fate keeps bringing them back together. View photos for episode 1.02.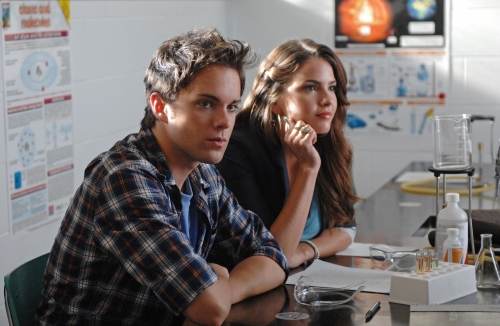 Episode 1.03 "Loner" (September 29): There's a school dance in Chance Harbor and relationships are getting complicated. A cute student named Luke (guest star Zachary Abel) asks Cassie to go to the dance with him. She's hesitant to accept his invitation until she watches Adam and Diana hanging out at the boathouse. Adam gets jealous when he realizes that Cassie has a date for the dance. Melissa's excited about the upcoming event and thinks it's a perfect way to get closer to Nick, while Faye would rather focus on controlling her growing powers. Faye's mother, Dawn, learns that a man from their past named Zachary (guest star Dave Baez) is in town, asking questions about Cassie and the Circle. Afraid of what could happen, Dawn asks Charles to keep an eye on Zachary. View photos from episode 1.03.
Episode 1.04 "Heather" (October 6): Cassie decides to look up Heather Barnes (guest star Camille Sullivan), an old friend of her mother's. But Cassie learns some disturbing news: Heather has been in a coma since the night of a fire 16 years ago. Cassie feels guilty that the actions of her mother and her Circle may have led to the fire and Heather's present state, so she asks Diana to help her heal Heather. Diana doesn't want to do the spell, but Fay is willing to help Cassie — as long as Cassie is prepared to pay a price.
Don't miss the series premiere of The Secret Circle tonight on The CW at 9:00 p.m. ET. Check out the video below and then read Mark's review and our analysis of the similarities and differences between the show and the books.