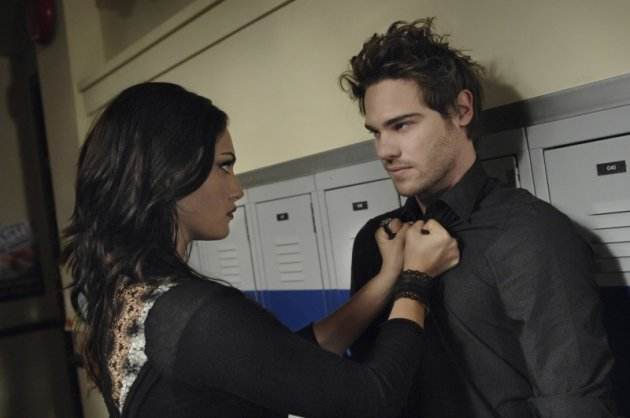 The Secret Circle returned from its nearly two month hiatus this week and the show is venturing into dark magic territory. Now that Cassie knows the truth about her father (that he's descended from a long line of dark witches), she herself is feeling the effects of having that kind of power inside of her.
When she feels cornered or betrayed, Cassie can lash out with dangerous effects. We saw in last night's episode of The Secret Circle that she strangled Adam with the power of her mind when she thought he had betrayed her trust. She was finally forced to tell the rest of the Circle the truth about her lineage, which obviously worried them, although Diana and Adam are both trying to be supportive.
Speaking of Diana, her grandmother Kate visited in last night's episode and quickly realized the power that Cassie possesses. She told the teen that she could help purge her of this power, but all she really did was try to kill Cassie, forcing the girl to use her dark magic to escape a coffin. Now both Cassie and Kate know what she's capable of. For more on this week's episode, read Mark's review.
But will Cassie be able to stop using these dark powers? And if she doesn't, how will it change her? No one really knows yet, but Faye is very interested in acquiring those powers for herself. In this week's episode of The Secret Circle, she met with a man named Lee who she thought could help her gain enough power to do individual magic. Lee is sticking around for a while and in the January 13 episode, he'll do a spell with Faye in an attempt to appropriate Cassie's dark powers. But the spell will have ill effects for the other members of the Circle.
Watch a trailer for the January 12 episode of The Secret Circle below and don't miss the next episode. You can also view promo photos for the episode here.