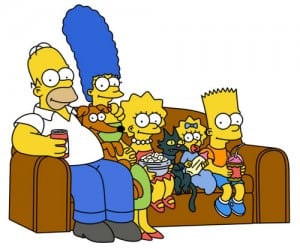 The Simpsons is not the typical show where you think you would need to worry about a character you loved being killed off, but guess what? A character you love from The Simpsons is being killed off in season 25. Wait, even that is remarkable. The Simpsons have been on for twenty five years. That means for most of my life, The Simpsons have been a part of it. Wow, crazy to think in those terms. Even crazier to realize one of these (albeit, animated) characters who we have associated with will be biting the big one on the show.
But who and how?
Notice we didn't ask why? We sort of understand the "why" to it all. The why is because the show has run so long, might as well switch it up and kill someone off to keep things interesting. Remember when they killed of Ned's wife? That messed some people up, but in reality, it is a moment we are STILL talking about, obviously they knew what they were doing.
In terms of who it might be, all Fox has told us is that it is one of the cast members who won an Emmy at one point. You might think that narrows it down, but most of the voice actors on The Simpsons have won an Emmy at one point, so that really didn't help, but well played for making it seem like it was. The reality is, they have thousands of characters they could pull from, and for us to speculate is just a waste of time, but you know we will be very curious to see which wonderful, animated character from The Simpsons takes the big dirt nap this season.
Our money is on Sideshow Bob. Dude's been asking for it for years.