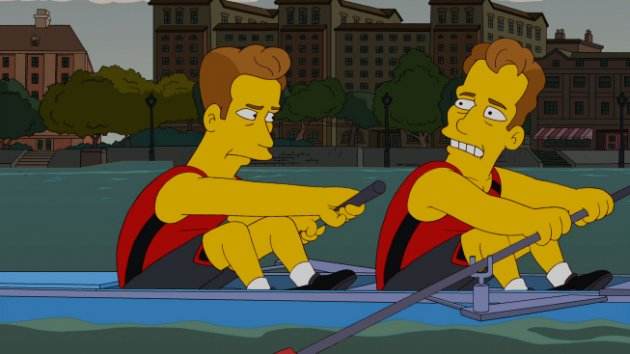 One of the stars of The Social Network – Armie Hammer – will be making a guest voice appearance on tonight's all new episode of The Simpsons. And he'll be playing (who else?) his characters from The Social Network: the Winklevoss Twins.
Here's the Fox description for tonight's episode of The Simpsons: "As the mastermind and creator of the online social networking phenomenon SpringFace, Lisa is called to trial when Springfield's obsession with the site becomes chaotic and dysfunctional. Lisa recounts her story and explains that she created the site after realizing she had no real friends. But as SpringFace expands and Springfield's fixation with the site causes mass hysteria, Lisa begins to realize that adding thousands of friends online did not compare to having real friendships. Later, Patty and Selma compete against the Winklevoss Twins (guest star Armie Hammer) in the rowing event at the 2012 Olympic Games."
Watch a sneak peek below featuring Armie Hammer and tune into a new episode of The Simpsons at 8:00 p.m. ET on Fox.