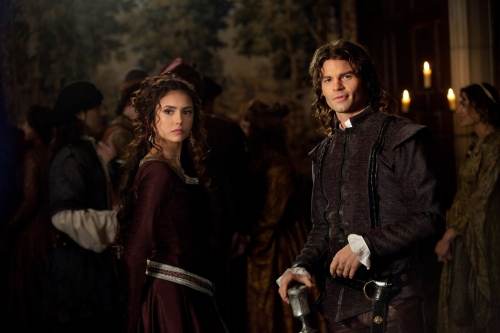 Joseph Morgan makes his debut as the mysterious Klaus in the April 21 episode of The Vampire Diaries, and Nina Dobrev gets to play Katherine in flashbacks, complete with gorgeous outfits.
The Vampire Diaries returns with all new episodes tonight (view a sneak peek and promo photos for the episode), and we've already seen photos for the April 14 episode, which will feature a 1960s theme dance at the high school (view them here). The build-up to the reveal of Klaus will continue, and he'll start contacting Elena through an intermediary in the April 14 episode. But his first real appearance on-screen will take place on April 21.
In the episode, Stefan and Damon will learn that Elena has decided to take on a new ally to in order to take control over the plan to defeat Klaus, and both of them will be furious with her for taking matters into her own hands. Conflict will rise between the brothers as they argue over how best to protect Elena from the coming danger. We'll also flash back to 1491, when Katherine first met Elijah (guest star Daniel Gillies) and Klaus and we'll learn the origin of the moonstone curse.
We're quickly approaching the season finale of the show, and I suspect we might get a heck of a cliffhanger, much like we did for the end of season 1. View photos from the April 21 episode from The CW below, featuring a lot of shots of Klaus, Elijah and Katherine in 1491. Make sure to tune into a new episode of The Vampire Diaries tonight!
[imagebrowser id=947 template = flipped]
clarissa @ tvovermind.com
twitter.com/clarissa373
twitter.com/tvovermind