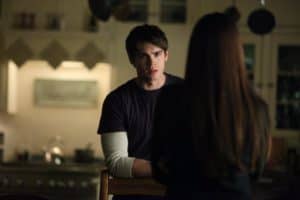 Jeremy's new hunter powers also seem to have given him a boost of self-confidence in an upcoming episode of The Vampire Diaries.  In order to get the plan to find the cure moving forward, Klaus deliberately puts Matt's life in danger to motivate Jeremy, but the young hunter is furious.  Jeremy decides to take on some of Klaus' new vampires, but Damon steps in to stop him and then both of them are surprised to discover that Kol has already decided to do the honors.  Kol is firmly against anyone finding the cure and he will do everything in his power to make sure that it remains hidden.  Elena steps in and tries to broker a deal with Klaus in order to keep her brother safe, but when a new danger appears, Elena comes up with her own plan for Jeremy.
Meanwhile, Sheriff Forbes and Mayor Hopkins (Bonnie's father) question Shane about his involvement in the Founders' Council deaths and this prompts Bonnie to do her own investigating.  What she learns will have her pushing herself to the limits of her power.
Use the arrows above to browse through photos for the January 24 episode of The Vampire Diaries on The CW.