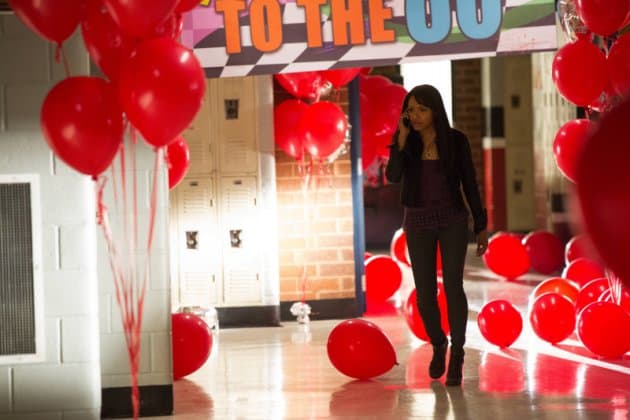 This season of The Vampire Diaries has still been moving at a considerable pace, but it has taken a little longer than previous ones to really find a solid direction and it finally seems like we are at that place. Much of the first half has dealt with the love triangle and with Elena's transition; this has been divisive at times and felt somewhat unfocused. Now that the hunt for the cure has picked up speed, so has the momentum and this can only be a good thing.
"A View to a Kill" had the characters scattered across Mystic Falls, all trying to accomplish the same thing but with very different motives and ideas of how to do it. The issue is of course Kol (Nathaniel Buzolic), who at this moment is the only person who doesn't want to find the cure thanks to his fear of Silas and what might become of the world if Silas is awoken. Elena (Nina Dobrev) wants Kol dead as this will solve both the Damon (Ian Somerhalder) compulsion issue and it will also complete Jeremy's (Steven R. McQueen) Hunter's Mark. Klaus (Joseph Morgan) simply wants Kol daggered as he might have a complicated relationship with his siblings, but he doesn't want them to be killed. In the middle is Stefan, who is part of plan A and plan B, with a side order of daggering Rebekah (Claire Holt).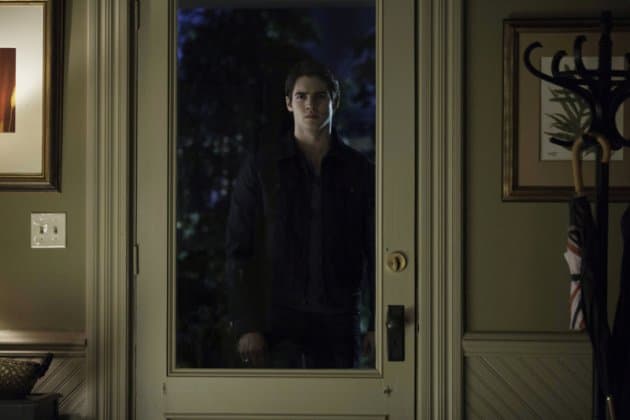 This is The Vampire Diaries so plans have a habit of hitting a certain amount of problems. Elena believes that Bonnie (Kat Graham) and her new powers are vital to bringing down Kol. Unfortunately, thanks to Bonnie's parents deciding that now is the time that they took some responsibility for their daughter, this doesn't happen.
In fact a lot of this episode is about being trapped; Bonnie at home with her parents, Damon in the Salvatore mansion cellar, Elena and Jeremy in their house and later Klaus in the Gilbert living room. Stefan (Paul Wesley) attempts to escape Rebekah's bedroom the morning after the night before and he spends most of the episode keeping Rebekah occupied in the high school. The only person who moves freely throughout is Matt (Zach Roerig) and his role is cut short when Stefan decides that daggering Rebekah isn't going to happen.
One huge surprise in this episode is that Kol is killed; this probably wouldn't normally be shocking as peripheral characters are often dispatched, but as there is an Originals spinoff in the works I thought he was considered safe. Not so and the Gilbert kitchen of doom took care of him – how many different people have been stabbed or had body parts cut off in this kitchen now? It helped of course that Mayor Hopkins (Rick Worthy) had dumped vervain into the water supply and that Kol was carrying the stake that can kill Originals, but contrivances aside it was a pretty spectacular death scene. This was aided by the look on Klaus' faces as he watched on helpless and reacted with the rage that we have seen many times before.
Before this moment Klaus was playing prison guard to Damon and using this time to get some romance advice, yep bad guys need to find out the secrets of the (figurative) heart too. Klaus wants to know how Elena can love Damon, when Damon has done such awful things. The explanation that Damon gives about why he has killed people would hold up better, if Damon hadn't killed people for selfish and impulsive reasons. This includes the Jeremy neck break, as even though Jeremy didn't really die (thanks to his ring) that action can't be justified by Damon's 'sometimes things have to get done' logic. I get what the writers were trying to do in this scene and while Damon is no Klaus when it comes to random killings he has impulse control issues. This is something that Damon even mentions later to explain why he couldn't overcome Klaus' compulsion and so it makes the previous comments hard to completely accept.
There are complicated points in the Rebekah/Stefan scenes as throughout the private 80s Decade Dance we know that Stefan is running a con on Rebekah. Rebekah is queen of claiming that she doesn't care, when really she is the one that cares the most and so while these 80s infused scenes are really sweet they are also tinged with potential betrayal. It's hard to figure out where the pretending ends and the sincerity begins and in this setting, with this music it appears that Stefan is having fun and that he does actually care about Rebekah. Not in the same way as he does/did about Elena or even Lexi, but there is definitely a connection and that is why he doesn't get Matt to dagger her even though he has the opportunity to do so.
Other thoughts
–A couple of weeks after pulling a Breakfast Club style detention on Elena, Stefan and Caroline (Candice Accola), Stefan shows Rebekah how to do the Breakfast Club slide.
-Other 80s references include movies such as Say Anything, The Princess Bride, music from The Cure and Bon Jovi and the 99 Red Balloons that Bonnie has blown up (or rather 89). I'm hoping we get a 90s dance as I really want to see Stefan's grunge phase.

-Jeremy get's a personal Hulk-out moment when he rips off his shirt as the Hunter's Mark, now visible to all grows up his arm and across his chest.
-Thanks to Damon's chat with Klaus about romance I think he needs to write a book called "How to be a Bad Boy, Kill People and Still Get the Girl." It can go in the same section as Caroline and Stefan's self-help guide "How to be a Vampire and not Kill Lots of People."
-Damon reveals in not so subtle fashion that Stefan slept with Rebekah, something that Elena is displeased with as she has a rather contentious past with Rebekah.
-Can we have Caroline and Tyler (Michael Trevino) in an episode again soon?
So now that they have the map there will be a group trip to a mysterious location and on a time limit (3/4 days before Klaus escapes his imprisonment). This hunt for the cure is not going to be a smooth one as there are different motives for wanting to find the cure and fractured relationships; hopefully this will make it a fun episode for the audience.
Watch a promo for "Into the Wild" here.