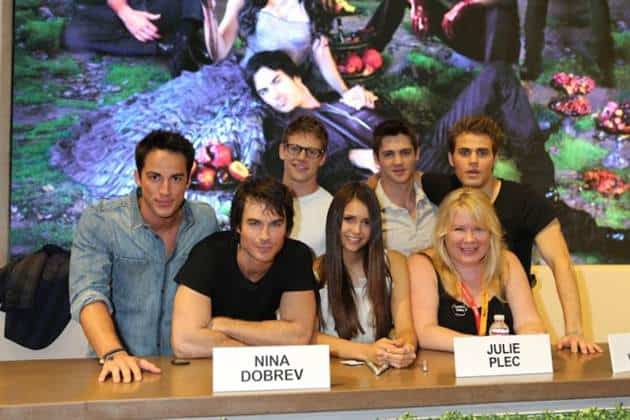 Several members of The Vampire Diaries' cast (Ian Somerhalder, Steven R. McQueen, Nina Dobrev, Zach Roerig, Michael Trevino and Paul Wesley) and executive producer Julier Plec came to Comic-Con this year to discuss the show's upcoming fourth season. After the cliffhanger from last year's season finale (Elena begins her transition to a vampire!), fans were dying to know what would happen next. Would Elena become a full-fledged vampire? How would her death affect the Salvatore brothers? And what about Klaus, who is stuck in Tyler's body thanks to some dark magic performed by Bonnie?
The cast and Plec dished up some spoilers for next season in the press room, as well as doing a public panel beforehand. They also went to visit the Warner Bros. booth on the convention center floor to sign autographs and visited the "Extra at Comic-Con" stage in a nearby park to chat with fans and be interviewed.
Warner Bros. photographers followed the cast around for the day's appearances and they've made the photos available.