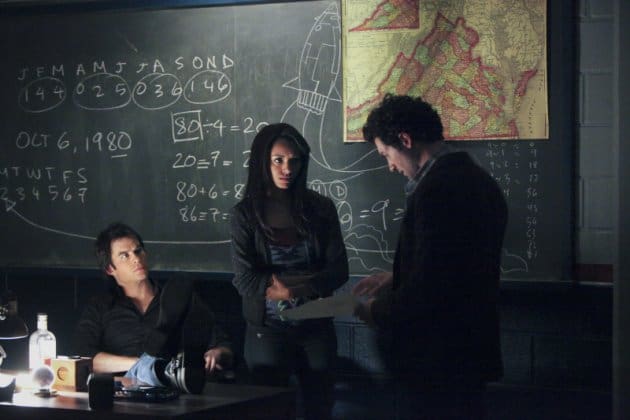 Elena's (Nina Dobrev) transition from human to vampire has not been an easy one on The Vampire Diaries; first she rejected blood that didn't come straight from the vein and after she has done the one thing they feared most, there are consequences.
After Jeremy (Steven R. McQueen) was placed in grave danger last week, Elena (and those pesky heightened emotions) reacted in a deadly and forceful manner. Elena killed Connor (Todd Williams) and reacted with the level of trauma and guilt that you would expect from a character with her level of compassion. This isn't all she has been left with as the episode ended with Elena seeing blood all over her bathroom including the word KILLER, also written in blood. This is a hallucination and as you can see from this sneak peek, it is a side effect of having killed a hunter and this week those hallucinations will continue.
The episode is called "We All Go a Little Mad Sometimes," this is a line from Alfred Hitchcock's Psycho and the shower scene in the sneak peek below appears to be a nod to this movie classic. Instead of someone getting stabbed, Elena starts seeing blood pouring out instead of water. Last week, Elena felt betrayed by Stefan (Paul Wesley), as Stefan has a big secret that he can't tell her and these trust issues are going to become magnified by Elena's mental state. The cracks are starting to show in their relationship and Elena will make a painful confession to Stefan this week; what do you think this will be?
Elena's hallucinations are not the only concern as Klaus (Joseph Morgan) returns from his excavation and he is less than thrilled about the death of Connor. He remains upbeat though, as Connor is not the only hunter and there will be more with the mark. One of them is in Mystic Falls; how long before they realize that Jeremy now has the tattoo?
Elsewhere Professor Shane (David Alpay) is integrating himself into the group as he tells Damon (Ian Somerhalder) and Bonnie (Kat Graham) a story of ancient witchcraft. Matt (Zach Roerig) finds out some disturbing information about the good Professor and lets Damon know all about it.
One person who Elena could do with at the moment is Caroline (Candice Accola) and in terms of tension, I understand why they have been keeping Caroline away from Elena at the moment. Caroline is just the person that Elena needs, as Caroline's motives are purely from a place of friendship. This isn't the case with Damon and Stefan, who both have good intentions when it comes to Elena's well being but they are both clouded by their romantic feelings for her. Caroline is also embroiled in her own romantic drama with Tyler (Michael Trevino), despite his admission that nothing happened with Hayley (Phoebe Tonkin).
If you've seen this promo, then you know that a certain someone will be stopping by; is it real or a hallucination?
Watch a sneak peek from tonight's episode below and for another clip head here. We also have promo photos here and if you need a catch-up here is a review from last week's episode.
http://www.youtube.com/watch?v=xmy6gQYYnYU&version=3&hl=en_GB