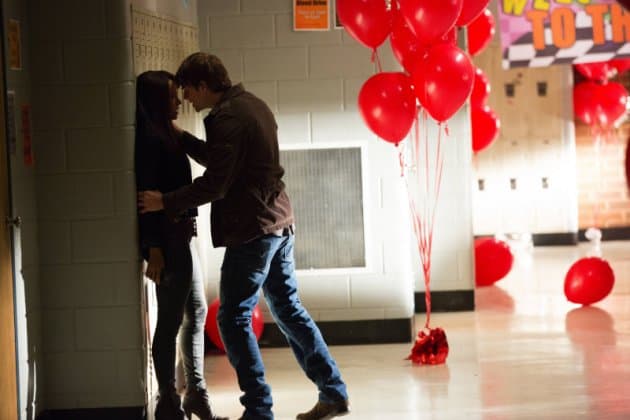 Life as a Hunter has not been easy for Jeremy (Steven R. McQueen) so far on The Vampire Diaries and it looks like things could get even harder for him tonight as Elena (Nina Dobrev) comes up with a dangerous plan. The Originals aren't getting along with each other, which isn't surprising of course but it means they have to seek help from other sources. Bonnie (Kat Graham) will end up on the end of some Original rage, while she also contends with her father's attempts to curb the violence in Mystic Falls.
At the end of last week's episode and after much sexual tension throughout the episode, Rebekah (Claire Holt) and Stefan (Paul Wesley) hooked up with a "no feelings, no attachments" agreement. Knowing what both of these characters are like, this is probably not an agreement that they will be able to stick to, as they are both good at pretending that they don't care, but not so good at doing this in reality. At the moment though, this pairing is fun and tonight Stefan will show that he can be sweet and attentive with Rebekah too. It is meant to be the 80s Decade Dance, but Mayor Hopkins (Rick Worthy) cancels it and this leaves Rebekah disappointed. Rebekah missed the last dance as she was daggered and so it is only appropriate that Stefan finds a charming way to make it up to her. The school is still decorated with (99?) red balloons so Stefan has the perfect setting to do so.
One issue is Kol (Nathaniel Buzolic) who, as you can see from these promo photos is also at the school tracking Bonnie. Kol is attempting to stop the hunt for the cure in any way, so it makes sense for him to go after the powerful witch. Will Bonnie be able to stop him? This could also all be part of Elena's dangerous plan for Jeremy as Kol is the target. Kol has compelled Damon (Ian Somerhalder) to kill Jeremy and if Jeremy kills Kol then his compulsion will no longer be a factor. It also means that his whole bloodline will die and Jeremy's mark should in turn be completed. This plan will not be the easiest and no plan on The Vampire Diaries goes without some kind of problem.
These problems could come from several areas; one is Stefan as Elena reveals what she wants to do and he is put in an awkward position. Is this the real reason why Stefan has Rebekah at the school? If Stefan has betrayed Rebekah's trust again this will ruin their team dynamic. Klaus (Joseph Morgan) could also be an issue as he is desperate to find the cure and he turns to a weakened Damon for advice and reveals something personal about Stefan to Damon. The pot is definitely being stirred tonight. It probably doesn't help that Rebekah rejects Klaus and his desire to sort out the Kol problem.
Mayor Hopkins is trying to do a better job than his predecessors in his attempts to put an end to the violence in Mystic Falls. He has an unconventional approach that Bonnie is unhappy about; what do you think Hopkins method is?
Watch a promo for A View to a Kill here and we also have promo photos for forthcoming episodes here and here.