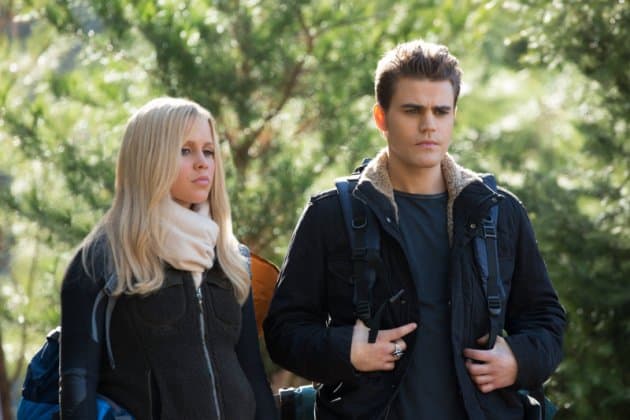 We are venturing out of Mystic Falls on tonight's episode of The Vampire Diaries as a big development at the end of last week could lead to the cure. This trip will involve many strong personalities and with many different agendas at play this is likely to bring a lot of conflict to the table. It isn't just the people who are going that will be causing issues, as their destination has plenty of secrets that it wants to stay hidden.
Leading this adventure is Shane (David Alpay) and so for now he must have got out of that whole 'oh I kind of killed 12 people' business. Rebekah (Claire Holt) has the headstone and Jeremy (Steven R. McQueen) has the map (after his fabulous Hulk-out moment), so there are several people who have vital things to add to this quest. Bonnie (Kat Graham) has the magic and has already defied her parents' wishes so I'm guessing they won't be signing a permission slip for this time away. They need Shane because he has all the knowledge to connect all of this and he will reveal more about the legend of Silas and the witch Qetsiyah when they head to this desolate island off the coast of Nova Scotia. Shane will also explain more about his own personal life; will we find out where his obsession with Silas began?
Making things awkward will be the many romantic entanglements, including Stefan's (Paul Wesley) recent tryst with Rebekah and the already simmering tension between Elena (Nina Dobrev), Damon (Ian Somerhalder) and Stefan. Elena and Rebekah have a contentious past and between Rebekah sleeping with Stefan and Elena's involvement in killing Kol (Nathaniel Buzolic) the chances of there being peace between these two is low. Stefan will be attempting to keep things civil between them, while Damon is preoccupied with Shane and the lies he thinks Shane is telling them.
Meanwhile, Bonnie and Jeremy are trying to figure out what the message of the Hunter's mark is. There are other forces at work here, as the island has its own magic and the presence of a witch as powerful as Bonnie might cause issues. So far the promotional material for this week is reminding me of the Dawson's Creek season 3 episode "Escape from Witch Island" (which was a play on The Blair Witch Project).
Back in Mystic Falls, Klaus (Joseph Morgan) is trapped in the Gilbert house and Tyler (Michael Trevino) decides that now is a good time to confront him, which sounds like a wise choice thanks to this imprisonment. It turns out that it might not be as Caroline (Candice Accola) ends up caught in the violence that follows. Uh oh, that does not sound good, though I am glad that after a two episode absence Tyler and Caroline are back tonight. 

Watch a preview clip of tonight's episode "Into the Wild" below and watch a promo here.
http://www.youtube.com/watch?v=4TYigwRaDxQ&version=3&hl=en_US