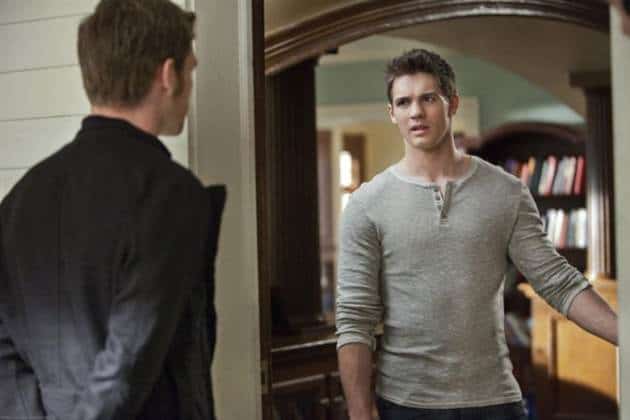 We're getting very close to the season 3 finale of The Vampire Diaries, folks! I know, it's traumatizing for me too. So many questions: which brother will Elena choose? Will the gang be able to kill Klaus and/or any of the other Originals? Will Caroline get back together with Tyler? Will Alaric go crazy permanently?
In the penultimate episode on May 3, Klaus decides he's had enough of Mystic Falls and wants to kidnap Elena and leave town with her. Unfortunately, he can't follow through with his plan because of interference from a "surprising new enemy". One of his siblings, perhaps? Bonnie reaches out to her mother, Abby, for help with a difficult spell, but it's Bonnie and Jeremy who take a huge risk to make sure that the spell works properly. Of course, there's no semblance of order anymore in Mystic Falls as everything spirals completely out of control. Elena is desperate to protect Caroline, while Damon and Stefan ask Tyler for help. In between all of this insanity is a quiet moment where Damon and Stefan sit down to have an important – and candid – discussion about the future.
Use the arrows above to browse through photos for the May 3 episode of The Vampire Diaries, airing at 8:00 p.m. ET/PT on The CW.
For more coverage of the show, including sneak peeks, photos, spoilers and more, browse and bookmark our Vampire Diaries page. You can also catch the newest episodes from Hulu on our page!