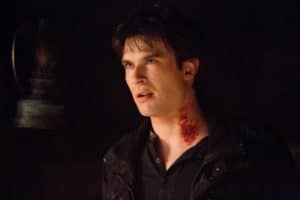 A few Mystic Falls residents are heading to an island off the coast of Nova Scotia in the February 7 episode of The Vampire Diaries in order to find out more about the cure (view photos) and they'll be sticking around for at least another week.  In the following episode, Damon gets whooped by a Hunter named Vaughn (guest star Charlie Bewley), who is revealed to be one of The Five.  As you can see from these photos, the Hunter gets in a few well-timed hits.
Meanwhile, Stefan decides to confess his feelings to Elena about becoming human once again and it appears that Bonnie will be experiencing hallucinations as Jeremy helps her "recognize what is real and what is an illusion".  Shane encounters a woman from his past named Caitlin (guest star Camille Guaty, "Prison Break"), who helps comfort him.  And back home in Mystic Falls, Tyler and Caroline are on a quest to decode the marks on the Hunter's Sword, but find it nearly impossible without help from Klaus.
Use the arrows above to browse through photos for the February 14 (Valentine's Day!) episode of The Vampire Diaries on The CW.