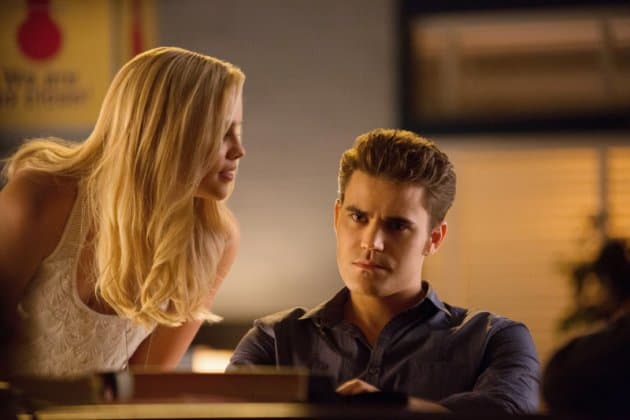 The festive period in Mystic Falls was not a joyful occasion and when The Vampire Diaries returns tonight expect repercussions as a result of Klaus' (Joseph Morgan) murderous actions. Klaus should be cautious as it's not only Tyler (Michael Trevino) who could be seeking revenge, as Rebekah (Claire Holt) returns after her recent dagger induced slumber.
Rebekah's sights are set on more than one target as The Vampire Diaries enters Breakfast Club territory, with several of the main characters ending up trapped in the school at the hands of Rebekah. In the sneak peek below you can see this is more than just your run of the mill detention as Stefan (Paul Wesley) and Caroline (Candice Accola) play a game of cat and mouse with Rebekah; but who is the cat and who is the mouse?
The Breakfast Club has been referenced in plenty of movies and TV shows, recently in Pitch Perfect and almost 15 years ago in Dawson's Creek (that sound you can hear is me weeping about how long ago that was). Quite often it is used as a way to reveal truths and break stereotypes; it would appear as if certain revelations will be shared in this impromptu imprisonment tonight. As you can see in this promo Elena (Nina Dobrev) isn't sugar coating anything for Stefan, telling him that she slept with Damon because she loves him, not because of the sire bond. The Breakfast Club would have been a very different film if it had been a room full of vampires and the anger from heartbreak and stakings will make this a more dangerous scenario. Will anyone end up dancing? Outlook is doubtful (but wouldn't that be fun?!).
Elsewhere Damon (Ian Somerhalder) is training Jeremy (Steven R. McQueen) with the aid of Matt (Zach Roerig) and Klaus is demanding that they hurry up. Jeremy is not all that happy with these orders and wants to go about this in a different way. Tyler is mourning the death of his mother, but needs to act wisely so he doesn't become another name on Klaus' endless victims list. We will also finally get to meet Bonnie's (Kat Graham) father, who will be filling in as Mayor of Mystic Falls and annoying his daughter in the process.
Watch a sneak peek for tonight's episode "After School Special" below and then go visit our Vampire Diaries page for sneak peeks and photos for the episode.
http://www.youtube.com/watch?v=SC8uFs0H4NQ&hl=en_US&version=3