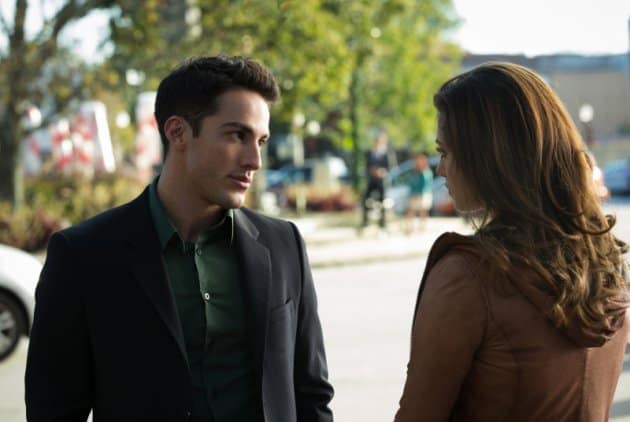 The Salvatore brothers had to confront Caroline's sire bond theory in this week's episode of The Vampire Diaries.  Stefan told Damon about the suspected bond, but Damon was, of course, disbelieving.  He did, however, agree to test the theory.  When he realized Elena could drink bagged blood if he suggested it, he realized the bond was true, so he and Stefan headed to New Orleans for answers.  It turns out that they had previously been in the city in the 1940s and Damon had turned to a witch for help in breaking a bond.
Unfortunately, Damon and Stefan learned that the bond can't be broken with magic.  The only way a sire bond can form between vampires is if someone like Elena had feelings for her sire before she was turned.  The only way to get rid of the sire bond would be for Damon to tell Elena to live her life without him and then leave her forever.  Despite being in love with Elena, Damon told Stefan he was prepared to break the bond.  Elena didn't want Damon to do it, but he was determined to do the right thing.  Still, he hadn't gone through with it by the end of the episode so it's up in the air if he'll keep his word to his brother.
Back in Mystic Falls, Caroline angrily told Elena about the sire bond after she learned that Elena and Damon had slept together.  This caused friction between the friends, but they eventually reconciled.  Tyler and Hayley also continued their quest to break 12 Klaus-hybrid sire bonds…a task that Professor Shane wanted accomplished.
The midseason finale of The Vampire Diaries airs next week and Mystic Falls is celebrating the holiday season.  Tyler has a plan to take Klaus out for good, but Stefan and Caroline don't agree with it.  Meanwhile, Elena and Damon take Jeremy to the Gilbert lake house to help him deal with his inner demons.
Watch a preview below for the December 13 winter finale of The Vampire Diaries.  You can browse through photos for the episode here.
Keep an eye on our Vampire Diaries page for sneak peeks, reviews, spoilers, photos and more!
http://youtu.be/0gRY04TVzgY