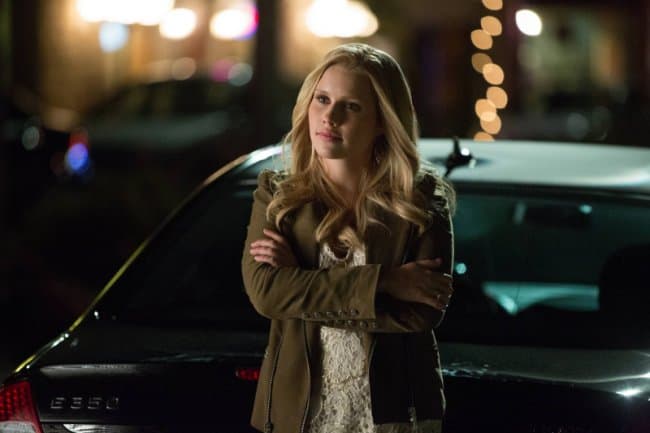 Damon brought Elena to New York City in this week's Vampire Diaries. He told her that he was giving her an opportunity to feed in a big city, but he also told Stefan that he was actually in the city to find out more about Katherine and the cure.  While there, he told Elena and Rebekah (who stopped by because she thought Damon had ditched her while searching for the cure) about his time in NYC with Lexi during the 1970s.  It turns out that he had turned off his humanity back then and Lexi came to try and get him to turn it back on.  But he played her and announced that he chose to be this way. But Elena was also playing Damon and decided to team up with Rebekah so they could find the cure and Elena wouldn't be forced to take it.
Meanwhile, Silas continued to manipulate Bonnie and convinced her to complete the final trial and close a mystical triangle so that he could raise the dead supernatural beings.  Stefan teamed up with Klaus and Caroline to find Silas, but Caroline's attempt to save Bonnie's life inadvertently closed the triangle.  Now Silas has exposed himself to Klaus and injured the Original when he refused to tell him who has the cure.
In next week's episode, Rebekah and Elena disappear in search of Katherine and the trail leads to a small town in Pennsylvania.  They encounter aanother surprise when they arrive: Elijah.  Meanwhile, back in Mystic Falls, Caroline reluctantly agrees to help Klaus and they come to a new understanding about Silas' powers.
Watch a preview below for the March 28 episode of The Vampire Diaries on The CW.  Click the link below the videos to view photos for the episode.
Visit our Vampire Diaries page for spoilers, reviews, sneak peeks and more.
http://youtu.be/FcyB2Hy4MEI